Sports Resident & PT Christian Huckfeldt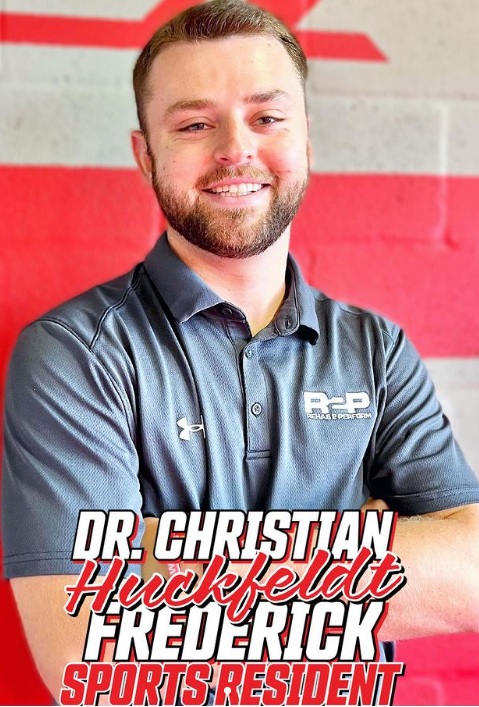 Get 2 Know our Sports Resident
Christian grew up in Fort Washington, PA as a multisport athlete in high school. He attended The University of Scranton, where he earned both a B.S. in Exercise Science and a Doctor of Physical Therapy (DPT) degree. Christian spent his first three years in college as a pitcher on the baseball team before transitioning into a coaching role.
In physical therapy school, Christian served as the student director of the University of Scranton's pro bono physical therapy clinic. He also spent time as a graduate teaching assistant in Orthopedics and Therapeutic Exercise labs. Christian is a Certified Strength and Conditioning Specialist (CSCS) through the NSCA and has worked as the strength coach for the baseball team throughout school. He spent his final clinical rotation with the San Francisco Giants organization in Scottsdale, AZ.
Christian is passionate about helping individuals return to the activities they love, whether that be sport or recreational in nature. He hopes to empower his patients to take an active role in their recovery by finding ways for them to continue to train around injuries. In his spare time, Christian enjoys playing golf, skiing, and hiking.
Q & A with our Sports Resident
Why did you want to become involved in physical therapy?
I became interested in physical therapy after fracturing my ankle during my sophomore year of high school. Through physical therapy, I was able to return just in time for baseball season. My interest in sports rehabilitation was solidified through undergoing shoulder surgery and returning to pitch at the college level.
What is your background?
I have always enjoyed being active and was a three-sport athlete in high school before playing Division III baseball in college. By undergoing both conservative and post-surgical therapy for my own injuries, I have gained insight into the physical and mental challenges that are often present during rehabilitation. I attended the University of Scranton for both my B.S. and Doctor of Physical Therapy degrees before joining Rehab 2 Perform as a Sports Resident.
What is your specialty or niche when it comes to physical therapy?
I enjoy working with athletes of all sports, but my specialty is baseball players. I played baseball until my junior year of college before transitioning to a coaching role with the team. In physical therapy school, I served as the team strength and conditioning coach while assisting with recruiting. I spent my final clinical rotation in professional baseball with the San Francisco Giants organization in Scottsdale, AZ.
What are you most looking forward to in joining the Rehab 2 Perform team?
I am looking forward to learning from the great team of clinicians at R2P who emphasize an active approach to rehabilitation. I'm excited to work for a company that prioritizes and encourages both clinical growth and community outreach.
What are your plans on trying to engage and connect with the community?
Because of the great direct access laws in Maryland, I believe that it's imperative that physical therapists have a direct relationship with the community. I hope to engage with the baseball community through hosting weekend clinics meant to teach coaches and players the fundamentals of training programs.
---
Dr. Christian is serving clients in our Frederick office as a Physical Therapist and our Sports Resident! Rehab 2 Perform specializes in preventing risk to re-injury and empowering you with the tools to stay active. We serve the Annapolis, Bethesda, Columbia, Frederick, Gambrills, Germantown and Mt. Airy areas in Maryland, and coming soon to Virginia in the Tysons Corner District! Contact us today at 1(301) 798- 4838 or schedule an appointment by visiting us here today.