PHYSICAL THERAPY AND PERFORMANCE ALL-IN-ONE
Our Sports Rehabilitation services are exactly what you're thinking … we work to get an athlete back to the playing field quickly and safely. Pain management is only a small part of the process. From the ACL Injury and Ankle Sprain to Shoulder Dislocations and Hamstring Pulls, the overarching goal is returning to optimal function through a wide variety of athletic movement progressions, while educating the athlete to prevent future injuries.
The Sports Rehab Facility For You
Featuring over 1,000 square foot of turf at each of our locations, we are able to work with our sports rehabilitation clients through a full spectrum of agility, balance, coordination and other dynamic movements necessary for return to sport. Each of our Doctor of Physical Therapy level staff has advanced credentials and experience in sports performance training that enable them to take you to the highest levels of performance, all while ensuring you meet certain Return-To-Sport criteria necessary to decrease your risk of re-injury.
At Rehab 2 Perform™, we implement a Phase-Based Rehabilitation Program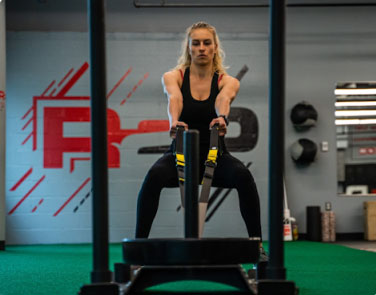 This allows us to progress or halt the programming of an individual's rehab regimen based on whether they meet certain subjective and objective criteria.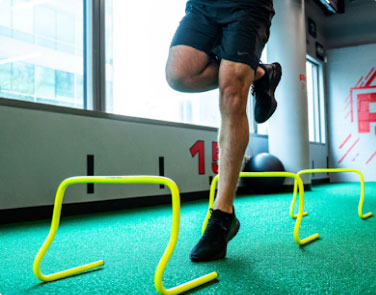 This unique and cutting-edge approach allows us to individualize the sports rehabilitation program directly to the athlete's abilities, needs and goals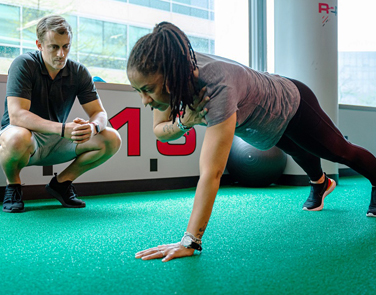 It significantly reduces the risk of re-injury while also accelerating the rehabilitation process.
Return 2 Sport Testing
Our Physical Therapists employ the most current research when implementing Return to Sport testing that is necessary to clear our athletes for the playing field. With an extensive network in the local and regional medical community, Rehab 2 Perform™ champions our ability to communicate and function in a synergistic role with your surgeon to ensure a seamless and smooth experience while in physical therapy.
Our Physical Therapists are trained to address concussion symptoms, and help progress clients back to school, work and activity using a graded exposure rehab model.
The R2P Difference & Visit Expectations
At Rehab 2 Perform, your Initial Evaluation with a Doctor of Physical Therapy will be approximately one hour and could potentially last up to 75 minutes with subjective questions, objective movement assessments, and developing your home exercise program.
Follow-Up sessions will last approximately 25-30 minutes, 1 on 1 with your physical therapist, with the potential to have your exercise therapy routine extend the session approximately 15-20 minutes.
Our goal is for you to 'Graduate' from our care at optimal function, ideally pain free, and have provided you the proper education and guidance to reduce the risk of re-injury, and return to your activities with confidence!
We Accept All Major Insurance Providers
In-Network Insurances Accepted
Aetna (Including Meritan and Coventry)
Blue Cross/Blue Shield (Including Carefirst, Anthem and Highmark
Cigna / ASH (American Speciality Health)
Johns Hopkins Healthcare: Employer Health Programs (EHP), US Family Health Plan, Priority Partners, & Advantage MD
United Healthcare (including MDIPA, GEHA and Humana)
Workers Compensation
(OWCP and Others)
Initial Evaluation (1 hour) - $145
Follow-Up (minimum 30 minutes) - $95
Follow-Up (Post-Surgical) - $70
*15% Discount for Military & First Responders (Self Pay Only)