Brand Guide
Thank you for your interest in Rehab 2 Perform™. Please find below our logo, colors, font and other items to properly reference Rehab 2 Perform™.
DO's
When spelling out please include the space between words/letters - Rehab 2 Perform™
You are able to use the abbreviation R2P in context once Rehab 2 Perform™ has been used previously
DO NOT
Do not use 'to' or spell out 'two'. Always use '2'
Do not alter the logos below in any fashion
---
LOGO
Please review the logos and rules below. Click on the appropriate link. From that page, right click and save the file. If you need access to a Vector logo, please download HERE via dropbox
Two-Color Logos should only be used on white or black backgrounds, respectfully.
If you are using a colored background, or overlaying overtop of a graphic please use a ONE-COLOR LOGO.
The logo should NEVER appear to be in a 'box'
Please keep the aspect ratio true to the logo, do not stretch or skew the logo
Do NOT crop the logo to include just the 'R2P' or 'Rehab 2 Perform' font. The full logo must remain intake.
For Transparent (NO) background, click on & download the 'PNG' File
If issues, need assistance, or unsure, that is OK!  Email Matt and he will help- Matt@Rehab2Perform.com 
DO NOT!
DO NOT Use the Two-Color Logo on any colored Background, except White or Black. Simply use the One-Color Transparent Logo.  There should never appear to be a 'box' around the logo.

DO NOT Use the One-Color Logo with the White or Black 'Box' on a Colored Background. Simply use the One-Color Logo with the Transparent (No) Background.

Minimal shadowing, glow,  or a 1 or 2 point stroke are OK, please do NOT put a heavy stroke or shadow on the logo.

Please try your best for the '2' cut out to be on a plain or 'less busy' part of the background.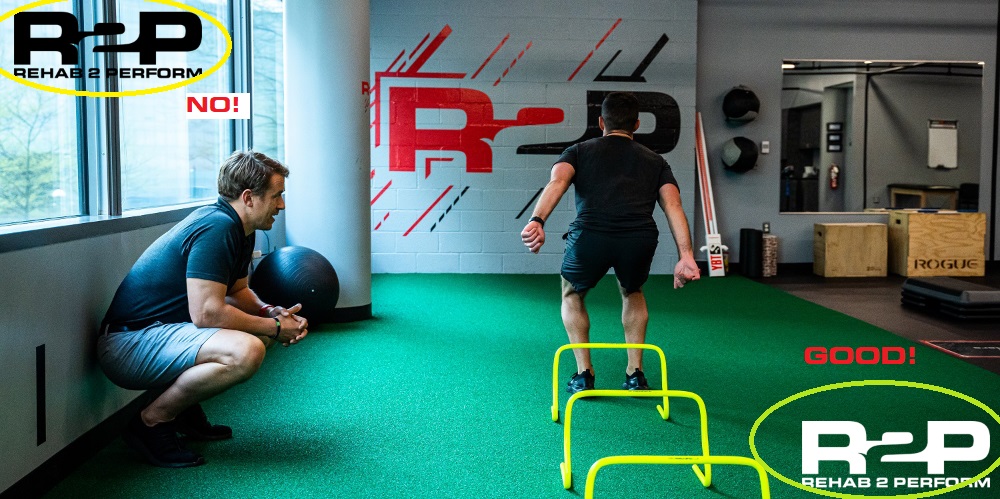 Color
RED: CMYK- 0,100,100,0  |  RGB- 237,28,36
Black: CMYK- 70,67,64,74  |  RGB- 1,1,1
White: CMYK- 0,0,0,0  | RGB- 255,255,255
---
TEXT & Taglines
Preferred Text: SQUARE721 BDEX BT BOLD.  Download HERE
BE > YESTERDAY
PERFORM NOW. PERFORM FOR LIFE.
PHYSICAL THERAPY | SPORTS REHAB | NUTRITION | CONCUSSION CARE
READY 2 PERFORM