Physical Therapy & Sports Rehab Experts in Tysons Corner, VA
LOCATED NEAR TYSONS CORNER GALLERIA
Serving the Active Adult, Competitive Athlete, and those looking to be more active!
SERVING THE GREATER TYSONS CORNER, NORTHERN VIRGINIA AND FAIRFAX COUNTY AREA INCLUDING
 Annandale, Arlington, Fairfax, Falls Church, McLean, Oakton, Reston, and Vienna
R2P's Fitness Focused Philosophy
Rehab 2 Perform
Providing you with education & solutions to perform now, and for life.

Clients report their goals met 95% of the time

1000+ 5-Star Reviews  |   95 NPS (Customer Satisfaction) Score
You!
Exceeding Your Goals & Expectations
Providing individualized strategy & solutions for your unique situation.
We want to know your story and what drives YOU!
An Amazing Atmosphere
More like an Athletic Training Room & Gym
Treatment tables, several hundred square feet of turf and a variety of functional equipment
Open concept with great community feel and positive energy
Doctorate Level Physical Therapists
A focus on modern and progressive techniques and philosophy
Advanced Credentials in Strength & Conditioning, Sports Certifications, Athletic Training, Dry Needling & more!
Backgrounds from Pediatrics to Geriatric, and Youth Sports to the Pros!
Rehab 2 Perform™ (R2P) continues to push our brand of Physical Therapy out to the community in an effort to better serve competitive athletes, active adults and those looking to become more active, by focusing on movement, and not primarily pain. More like a fitness center and athletic training room than a doctor's office, each of our Rehab 2 Perform™ locations feature a variety of equipment, turf, and other features to get you moving quickly and performing at your peak! This is Physical Therapy, Done Different!
Whether a major surgery or injury, to nagging pains or muscle strains, our expert staff will get you back to the activities you love 2 Perform.
Personalized One-on-One sessions with a Doctor of Physical Therapy

A true Return to Activity or Sport Atmosphere with an Evidence Based Approach

Modalities (Massage, Cupping, Dry Needling) to help jump start our modern approach centered around movement and functionality.

Returning you to optimal function through a wide variety of movement & exercise progressions
Interested in Physical Therapy but unsure if it right for you? Aches and Pains holding you back from the activities you love to perform?
Come in for a 1-on-1 Free Consultation!
We Accept All Major Insurance Providers
Just off the Capital Beltway (495) at VA-7 Leesburg Pike, between Rt. 267 (Dulles Access) and I-66. 1/4 Mile from the Tysons Corner Galleria & Tysons Corner Center and 1 Block from The Shops at Fairfax Square.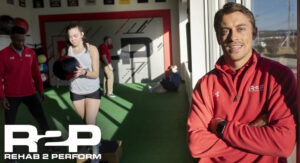 Rehab 2 Perform™ (R2P) is an industry leader in providing fitness-focused rehabilitation solutions for the active adult and competitive athlete. With an emphasis on education and empowerment, R2P provides physical therapy, sports rehabilitation, concussion care and wellness services across Maryland, Virginia and the Greater D.C Region. A recent recipient of the WebPT Innovator of the Year, Rehab 2 Perform has earned a spot on the Inc. 5000 fastest-growing companies for the past three years.