Meet Ebun, DPT Student – Howard Univ.
Why did you decide to enter the field of Physical Therapy?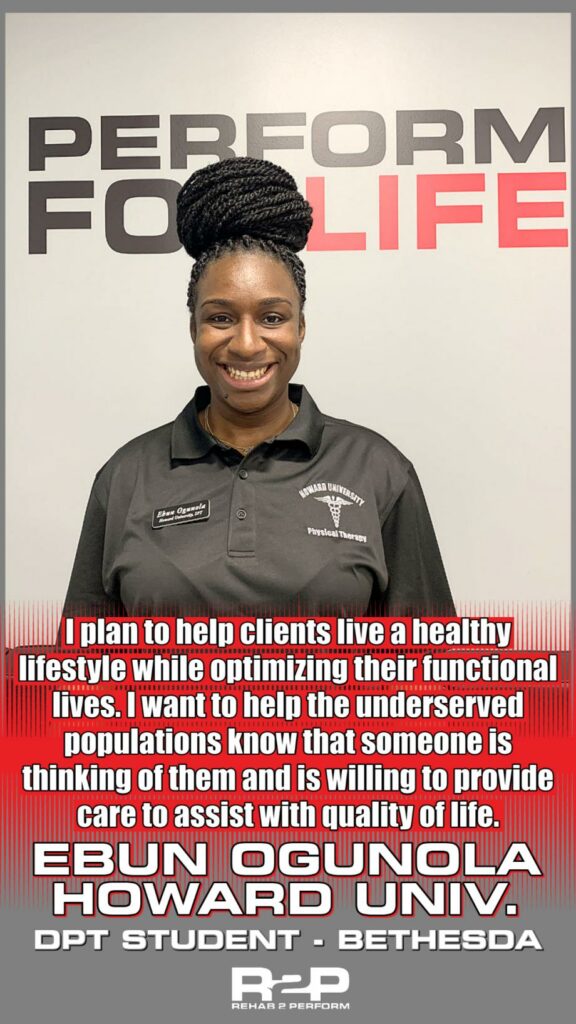 Most people know what they want to do with their lives by the time they enter high school, I didn't. When I was a sophomore in high school, I applied to be an athletic trainer to support a friend who was passionate about it. After being exposed to the field and learning from my head athlete training coach the realm of physical therapy, I was beyond intrigued. That was when my research into the world of PT began. I immediately applied to volunteer at a PT clinic to delve further into the field I was just becoming familiar with. By the time I finished my internship, I came to the conclusion that this field was made for me. From that point on I became proactive with my need to volunteer and continue to gain exposure into this incredible and rewarding field.
What is your background?
I graduated from Tarleton State University with a bachelor's degree in Biomedical Science in 2017. I then went on to receive my master's degree from Concordia University in Applied Exercise Science in 2019. A week after I graduated from my master's program, I began at Howard University's Doctor of Physical Therapy Program. I am currently a third year DPT student. I have volunteered at various physical therapy clinics in Texas, observing numerous impairments and personalized methods of treatment and interventions by different physical therapists. One of my most valuable experiences that solidified my choice to pursue PT was at the TIRR Memorial Herman hospital, where I was able to witness firsthand patients on their path to recover from suffering strokes, motor vehicle accidents, spinal cord injuries and more. In my free time, I enjoy staying active and going to the gym and watching Netflix.
What is your specialty/niche when it comes to being a future physical therapist?
I am aiming to specialize in both sports and geriatrics. I know that they are both on different ends of the spectrum, but both populations played a role in my love for physical therapy. I became interested in the field of physical therapy as a student athletic trainer which is what made me interested in sports. I was never one to actively play sports, but I enjoyed watching the team's physical therapist work on our athletes during and after games. However, when I started volunteering at different PT clinics, the majority of the population were geriatrics. I found it easy to work with them and understood what was going on with them based on their diagnosis. Both of the populations require unique rehabilitation plans when they come for treatment in a physical therapy clinic. I want to improve quality of life for my geriatric's patients; and I also want to maximize the sports performance of athletes in order for them to become the best versions of themselves.
What are you most looking forward to joining the Rehab 2 Perform team?
I look forward to having the one-on-one training with my CI in learning how to properly rehabilitate athletes from different backgrounds of sports. I think it is really interesting how creative individualized treatment plans are in order to help an athlete return to sport and maximizes their performance as an athlete in general. I look forward to learning how different sports require different strength and conditioning interventions for their athletes to increase strength, power, and speed. Overall, I'm eager to learn and gain experience during my time at rehab2perfrom.
What are your plans on trying to engage and connect with the community?
With my unique academic background, I have been exposed to different populations and backgrounds of people who are different from me. I plan to take the skills I learned at my internships and physical therapy school to help them live a healthy lifestyle while optimizing their functional lives. I want to help the underserved populations know that someone is thinking of them and is willing to provide care to assist with quality of life.