When 2 Exercise Postpartum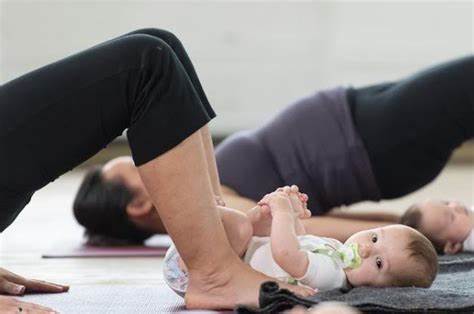 When is an exercise too much in the postpartum phase?
Have you been told you can return to exercise 6 weeks postpartum with no further guidance than this?! What the heck does it mean to listen to my body? When should I stop an exercise?
Here are 4 symptoms to look for when exercising that indicate that exercise is too much for your body…
Heaviness in the pelvic area
Leaking Urine
Noticeable gap along the midline of your abdomen
Pelvic or lower back region
Now, this is not to say you can never do that exercise again! It simply means you are doing something that your body is not yet ready to perform.
Just like any other body part after an injury, your pelvic floor needs time to build up strength after birthing a baby. It's all about smart training and graded exposure. 
Return 2 Running
When can I return to running after having a baby?! Here are some things to look for: 
Can you…
Walk briskly for 30 minutes
Stand on one leg for 30 seconds
Perform 10 single leg squats
Jog in place for 1 minute
Perform 10 forward bounds
Perform 10 single leg hops
Perform 10 single leg running man
You should be able to perform these symptoms free! Keep in mind, this is a brief checklist. Determining when you are ready to return to run after baby is multifactorial and will look different for each woman. Other things to consider include the strength of the muscles in your hips and legs.
Further Reading – What to know about Running after having a baby, from Runners World
Our Services for Postpartum Physical Therapy
Rehab 2 Perform Physical Therapy has added Pregnancy & Postpartum Physical Therapy to their elite services. This addition will help moms, and soon to be mothers, navigate the challenges of a changing body and the choices surrounding physical activity and fitness during the pregnancy and postpartum period.
With a progressive and comprehensive approach their team of experts will assist in making informed decisions that takes into consideration the individuals needs and situation as they continue, and return to, physical activity and fitness.
To learn more about these services and to schedule an appointment visit here
---
Rehab 2 Perform specializes in preventing risk to re-injury and empowering you with the tools to stay active. We serve the Annapolis, Bethesda, Columbia, Frederick, Gambrills, Germantown and Mt. Airy areas in Maryland, and coming soon to Virginia in the Tysons Corner District! Contact us today at 1(301) 798- 4838 or schedule an appointment by visiting us here today.