Healthy Snacks from a Nutritionist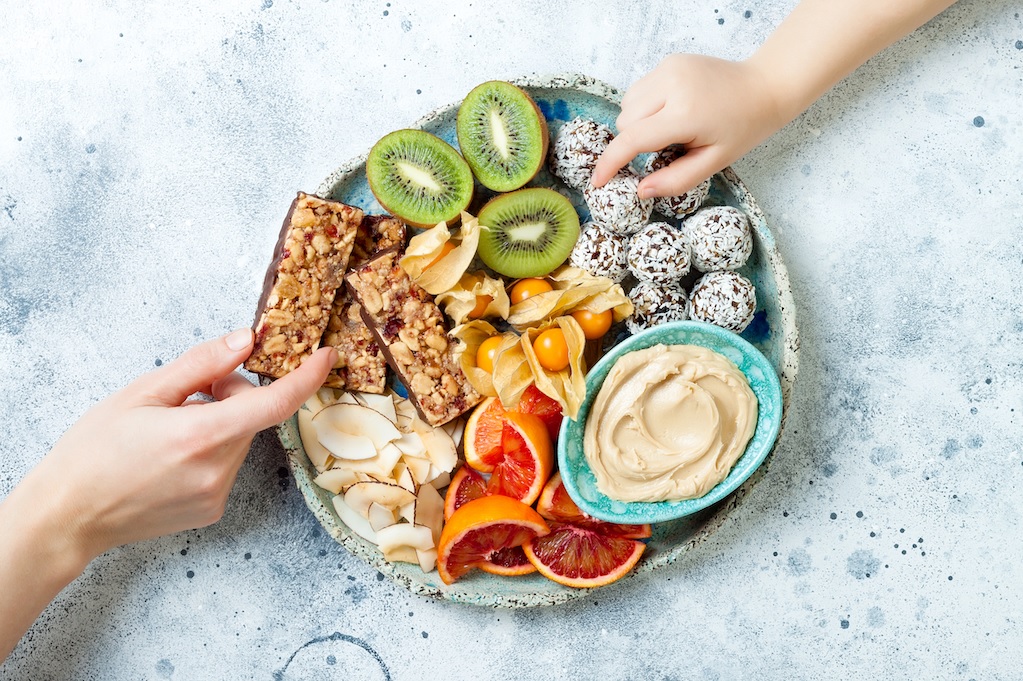 Check out these Healthy Snack options from our Registered Dietitian, Jessica Murgueytio. These snacks are great on the go, quick to make, and are packed with protein and the other essentials to fuel you through the day or for your next workout. Try them out and let us know your thoughts! Follow Jessica on Instagram at @jess.murgueytio.rd, and learn more about our new Nutrition Services Here!
HIGH PROTEIN SNACKS:
5oz of plain Greek yogurt (Use stevia or PB2 of Cinnamon or Fresh fruit preserves for flavor)
½ cup of 2% cottage cheese
1-Premiere Protein Shake (premade protein shakes- can be purchased online or at Costco in bulk)
Protein Powders: Whey protein powder, Vegan protein powder (combination of pea & rice protein) or Egg white protein powder

Mix with almond milk for a low-calorie snack on the go

Blend with almond milk, 1cup of frozen fruit and 1Tbs. of nut butter for a meal replacement

1-2% Mozzarella cheese stick
2-3oz of sliced nitrate-free turkey breast wrapped in lettuce
Protein Bars: Quest Bars, Pure Protein Bars, Rx Bars, KIND Bars (High protein variety) or Think Thin Bars
FRUITS & VEGETABLE SNACKS:
Veggie Bags: sliced cucumber, baby carrots, celery and cherry tomatoes (carry these with you every where to get 1-2 servings of vegetables in throughout the day)

Dips & Spreads for Vegetables: 100kcal pack of Wholly Guacamole. Individual cup of hummus, 4-6Tbs. of tzatziki or 2Tbs. of favorite dressing

Fresh Fruit: 1 Apple or Pear (sliced or whole), 1-2 clementine, 1 orange, 1 cup of fresh mixed berries, or 1 small banana

Spreads: Pair fruit with 1-2Tbs. of nut butter (try Justin's individual almond butter packs)

4oz of unsweetened apple sauce
Cucumber Sandwiches: Slice cucumber, spread small of tahini or cream cheese, feta or hummus on one side then place another slice on top
Organic Freeze-Dried Fruits (look at packaging for portion recommendations! I like the brand "Nature's All")
Individual Bags of Popcorn (corn is a vegetable 😉) or portion your own Ziploc bags.

Try Skinny Pop or Boom-Chica-Pop or regular air popped popcorn
SNACKS WITH HEALTHY FATS:
¼ cup of mixed nuts: Almonds, macadamias, walnuts, pecans, cashews, pistachios and Brazil nuts
¼ cup of seeds (Try Super Seeds Gourmet Pumpkin Seeds)
2Tbs. of Almond or Peanut butter
½ avocado (sprinkle with salt and eat with a spoon!)
½ cup of BARE Roasted Coconut strips

Combine nuts, seeds and coconut for your own homemade and portion-controlled (¼ cup trail mix!)
HOMEMADE PROTEIN GRANOLA BARS:
Author: Amanda @ Running with Spoons | Yields: 12 bars
INGREDIENTS:
2 cups quick oats
½ cup vanilla protein powder
2Tbsp. ground flax
1tsp ground cinnamon
¼ tsp salt
¼ cup almond butter (or any nut butter)
¼ cup honey
½ cup unsweetened vanilla almond milk
1tsp vanilla extract
½ cup mini chocolate chips
DIRECTIONS:
Preheat oven to 350F (175C) and prepare an 8×8 (20x20cm) baking pan by spraying it with cooking spray. Set aside
In a large mixing bowl, combine oats, protein powder, flax, cinnamon, and salt. Set aside.
In a medium-sized mixing bowl, combine almond butter, honey, almond milk, and vanilla. Mix until fully combined. Pour wet mix into dry mix and stir until fully incorporated. Fold in chocolate chips.
Pour into prepared baking pan. Using a spatula or your hands, spread the mixture evenly in the pan, pressing down firmly.
Bake for 18-20 minutes, until edges begin to turn golden brown.
Remove from oven and let cool in pan for 20 minutes before cutting into bars.
NUTRITION: 1 Granola Bar= 145kcals, 6.2g of FAT, 19g CARBS, 8.5g SUGAR, 3g FIBER, 5g PROTEIN
---
R2P is proud to offer individual nutrition counseling with our new registered dietitian, Jessica Murgueytio. Personalized nutrition helps your body function optimally and increases the body's ability to heal and strengthen itself. Learn More about these Services and Schedule Now!
Rehab 2 Perform specializes in preventing risk to re-injury and empowering you with the tools to stay active. We serve the Annapolis, Bethesda, Columbia, Frederick, Gambrills, Germantown and Mt. Airy areas in Maryland, and now in the Tysons Corner Business District in Virginia. Contact us today at 1(301) 798- 4838 or schedule an appointment by visiting us here today.