New Sports Resident & PT Dr. Bami Adu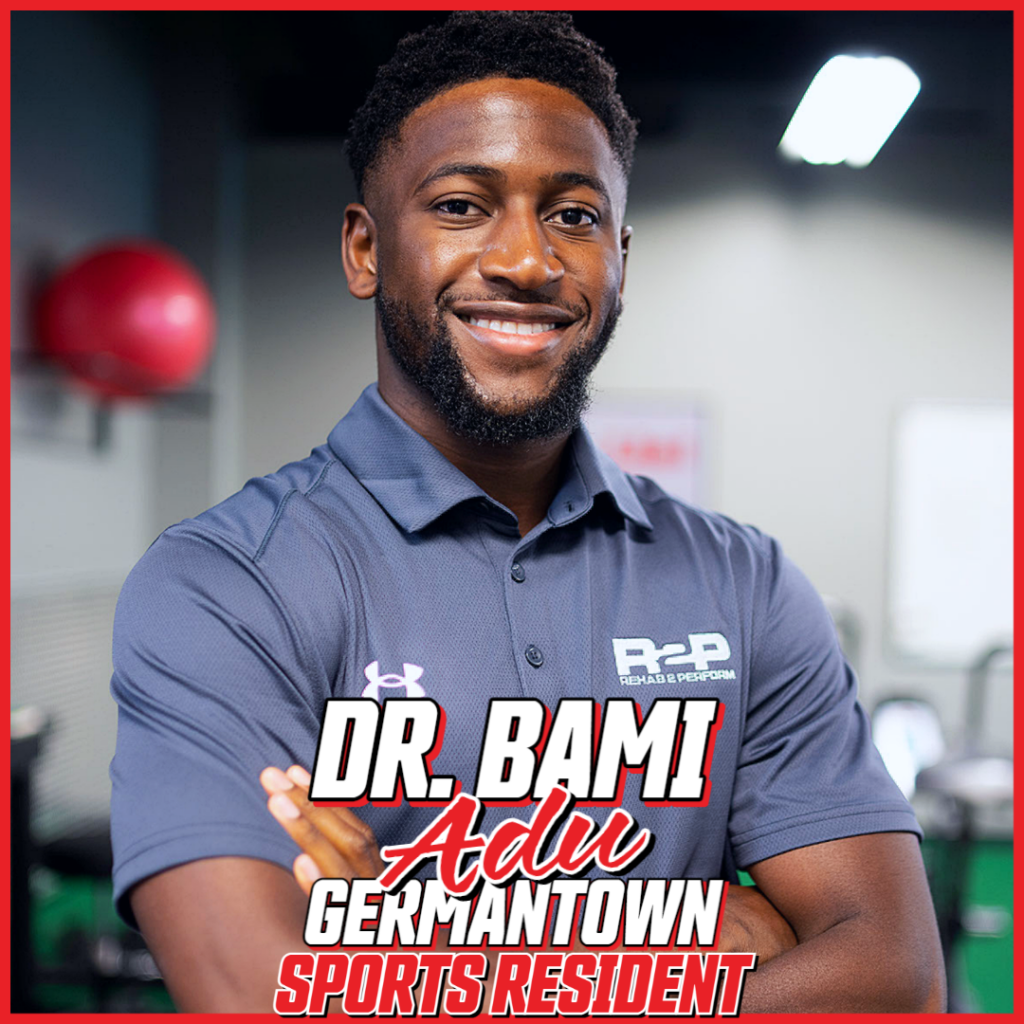 Bami is our new Sports Resident (one of two), in the second year of the Residency Program. Bami grew up in Howell, New Jersey where he was the youngest of 4 kids. He played competitive soccer at the highest level throughout his youth and continued on to play Division I soccer at the University of Hartford where he received both his B.S. in health science and a doctorate in physical therapy.
Always passionate about sports performance and rehabilitation, Bami became a certified strength and conditioning specialist and earned his FIFA medical diploma while attending graduate school. Utilizing this knowledge and his physical therapy education, he worked as personal strength and conditioning coach and trained soccer players at all levels from youth to pro players while completing graduate school. He gained further experience through his multiple clinical rotations, most recently at R2P where he learned under the tutelage of Dr. Tim Bifulco.
Bami strives to bridge the gap between rehabilitation and sports performance, and help individuals understand how resilient and capable the human body can be. He provides individualized assessment and care that is specifically aimed at helping each client reach their personal goals. In his spare time, Bami continues to stay involved with soccer by playing in men's leagues and coaching youth soccer teams.
Why did you want to become involved in physical therapy?
I chose the field of physical therapy as a result of my passion for athletics. Playing competitive soccer for over 20 years has afforded me many opportunities to benefit firsthand from the care and dedication of physical therapists. I always appreciated how these physical therapists helped me not only maximize my physical potential but my confidence in returning to the things that I love. My goal is to offer this same support to my future patients.
What is your background?
I grew up in Howell, New Jersey and where I was the youngest of 4 kids. I played competitive soccer at the highest level throughout my youth and continued on to play Division I soccer at the University of Hartford where I earned both a bachelor's degree in health science and a doctorate in physical therapy. During my studies, I also earned my strength and conditioning specialist certification (CSCS) and FIFA medical diploma while simultaneously working as a soccer trainer and strength and conditioning coach for a semi-pro soccer team as well as individual soccer training.
What is your specialty or niche when it comes to physical therapy?
My greatest area of strength would be sports medicine and rehabilitation. Due to my large involvement with sports my entire life, I have an intimate connection with the world of athletics and can relate to each patient on a personal level. However, my ability for building relationships for clients goes beyond just athletes. I consider empathy one of my greatest traits and this skill of placing myself in others' shoes has allowed me to develop meaningful and purposeful relationships. My goal is to offer individualized care while building trust when treating my patients.
What are you most looking forward to in joining the Rehab 2 Perform team as a Sports Resident?  
I am most looking forward to being a part of a team with a shared vision of patient care and advancement in the field of physical therapy. As a student intern at R2P I admired the motivation, desire, and pure joy each clinician had in providing individualized optimal care for each patient. I also appreciated the company's investment in each individual employee and the freedom granted to be one's authentic self. I'm excited to be a part of a team that values my personal and professional growth.
What are your plans on trying to engage and connect with the community?
I have always been passionate about helping those in my community achieve overall health and wellness. I would like to continue to use my sports background to help coach and hold soccer clinics around the community. Furthermore, I also have a strong desire in going to the community and educating the youth on the profession of PT and the pathway to achieving a doctorate. I especially want to serve as a role model to the youth belonging to minority groups underrepresented in our profession in an effort to help diversify the field.
---
Dr. Bami is serving clients in our Germantown office as a Physical Therapist and our Sports Resident! Rehab 2 Perform specializes in preventing risk to re-injury and empowering you with the tools to stay active. We serve the Annapolis,  Bethesda,  Columbia,  Frederick,  Gambrills,  Germantown and Mt. Airy areas in Maryland, and coming soon to Virginia in the Tysons Corner District! Contact us today at 1(301) 798- 4838 or schedule an appointment by visiting us here today.