RECIPE OF THE MONTH: NOVEMBER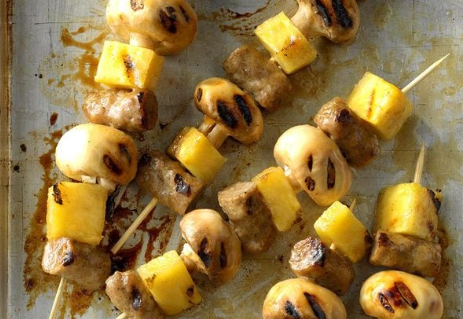 Fall is officially here but I am not ready to let go of everything that is summer so welcome to my favorite summer vegetable and favorite summer activity GRILLING!  
While most of us do not think about grilling breakfast, here is a great recipe to change up your morning routine. You can make these ahead of time or they would make a great main course! ENJOY!
Chicken Sausage & Pineapple Breakfast Kabobs
Adapted from: https://www.tasteofhome.com/recipes/breakfast-skewers/
Serves: 5
Prep Time: 20 Minutes
INGREDIENTS:
1-7oz package of fully cooked chicken breakfast sausages
1-can (20oz) of pineapple chunks (packed in juice), drained
10 medium fresh button mushrooms
1 Tablespoon of butter, melted
1 Tablespoon of maple syrup
DIRECTIONS:
Cut sausages in half; on five metal of soaked wooden skewers, alternately thread sausages, pineapple and mushrooms.
Brush each skewer with butter & syrup
Grill, uncovered, over medium heat, turning and basting with remaining syrup, for 8 minutes or until sausages are lightly browned and fruit is heated through.
Serve with wilted greens and a fresh fruit salad for a healthy outdoor summer brunch
NUTRITION:
1 Skewer: 207kcals, 9.5g FAT, 17g CARBS (2g FIBER & 12g SUGAR), 15g PROTEIN, 71mg of CHOLESTEROL, 500mg SODIUM
– In Health & Happiness, Jessica Murgueytio (follow me on Instagram!)
---
LIFELONG CHANGE IS A FEW STEPS AWAY!
Embark on Your Journey toward Better Health & Nutrition Now.
The R2P Signature Nutrition Program was created to break through the clutter of online misinformation and crash dieting. You will work 1:1 with our registered dietitian to create a meal plan and lifestyle interventions that are scientifically backed and produce real and sustainable results. Learn More HERE