7 Great Quinoa Recipes for Breakfast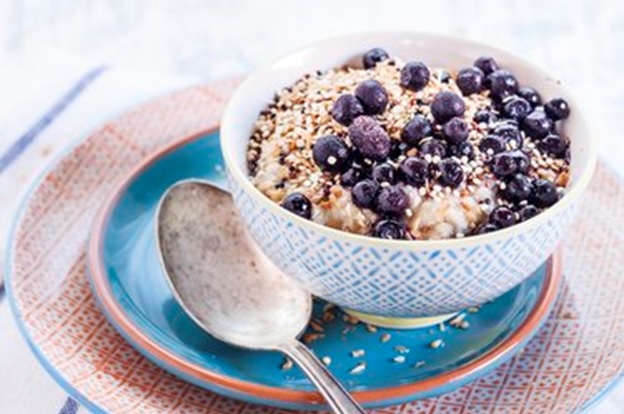 If you love your morning oatmeal, odds are you'll go cuckoo for breakfast quinoa, too. Not just a p.m. food, quinoa is the perfect addition to your breakfast routine.
Warm and comforting, the good-for-you seed (yes, quinoa is a seed!) not only sticks to your ribs but packs a whole lot of nutrients, too. One cup of cooked quinoa logs 8 grams of protein, according to the USDA. That's two more grams more than one cup of cooked oatmeal provides.
What's more, quinoa is one of the handful of complete proteins out there that aren't animal-sourced, which means it contains all the essential amino acids your body needs to keep your muscles and immune system healthy. If you're not entirely sure how to turn your go-to dinner side into a morning treat, start with these seven dietitian-approved, protein-rich quinoa breakfast recipes you'll be over the moon for.
1. Quinoa Porridge
This breakfast bowl is sugar and spice and everything nice: All-natural sugars from fresh apples and raisins mix with fragrant cinnamon and cardamom for a lovely flavor profile that's warm and comforting yet provides just enough spice. Plus, all the fruit-based fiber in this recipe can help lower cholesterol and your risk of heart disease, according to the USDA.
Get the Quinoa Porridge recipe and nutrition info here.
2. Quinoa and Amaranth Supercharged Breakfast
For those of you who can't live without oatmeal, this breakfast bowl — which features a combo of oats and quinoa — is the best of both worlds.
And with ground flax seeds, which are easier to digest than whole ones, you'll get a hearty dose of belly-filling fiber and heart-healthy omega-3s, Bonnie Taub-Dix, RDN, creator of BetterThanDieting.com and author of Read it Before You Eat it: Taking You from Label to Table, tells LIVESTRONG.com.
Get the Quinoa and Amaranth Supercharged Breakfast recipe and nutrition info here.
3. Chia and Quinoa Blueberry Breakfast Parfait
Taub-Dix loves this dairy-free parfait: "Unsweetened almond milk has no added sugar, and it's a great option for vegetarians" or for those just aiming to add more plant-based foods to their diet. "Plus, the whopping 17 grams of fiber is more than most people eat in an entire day," says Taub-Dix.
Between the crunchy chia seeds and quinoa, you're also getting 14 grams of filling protein that'll keep your belly rumbles at bay until lunchtime.
4. Chia Almond Yogurt
This simple recipe is easy as one, two, three, which is also the number of ingredients it requires. You can whip this breakfast bowl with just almond yogurt, quinoa and chia seeds. The healthy triplet is a winning combination for fiber and protein (14 grams each), says Taub-Dix, adding that this dairy-free recipe is also a great plant-based alternative for vegans.
Get the Quinoa and Chia Almond Yogurt recipe and nutrition info here.
5. Cranberry-Orange
Sweet and tart, this pairing of fresh, juicy orange and tangy, dried cranberries is guaranteed to awaken your senses first thing in the morning. Not only do dried cranberries offer an extra zing and some chewy texture to this breakfast bowl, they also add a nice amount of fiber and iron to the mix, Taub-Dix says.
Get the Cranberry-Orange Quinoa recipe and nutrition info here.
6. Creamy Berry Quinoa Parfait
Boasting a whopping 25 grams of protein, this satisfying layered parfait owes its protein power to low-fat Greek yogurt. Sweet blueberries and crunchy walnuts provide a balance of carbs and healthy fats for a well-rounded mix of macros.
Get the Creamy Berry Quinoa Parfait recipe and nutrition info here.
7. Peaches and Creamy Coconut Bowl
Coconut lovers, this one's for you. Thanks to coconut sugar, oil, milk and chips, you can enjoy quadruple the coconut flavor in this decadent quinoa breakfast bowl, which can easily substitute as a dessert.
But with 11 grams of saturated fat, this a.m. recipe should be relished as an occasional treat rather than an everyday staple, because the jury is still out on whether plant-based saturated fats pose the same ill effects on heart health as animal-based ones.
Get the Peaches and Creamy Coconut Quinoa Oatmeal Bowl recipe and nutrition info here.
By Jaime Osnato, from Livestrong
---
Rehab 2 Perform specializes in preventing risk to re-injury and empowering you with the tools to stay active. We serve the Annapolis, Bethesda, Columbia, Frederick, Gambrills, Germantown and Mt. Airy areas in Maryland, and now in the Tysons Corner Business District in Virginia. Contact us today at 1(301) 798- 4838 or schedule an appointment by visiting us here today.