Meet Sarah, DPT Student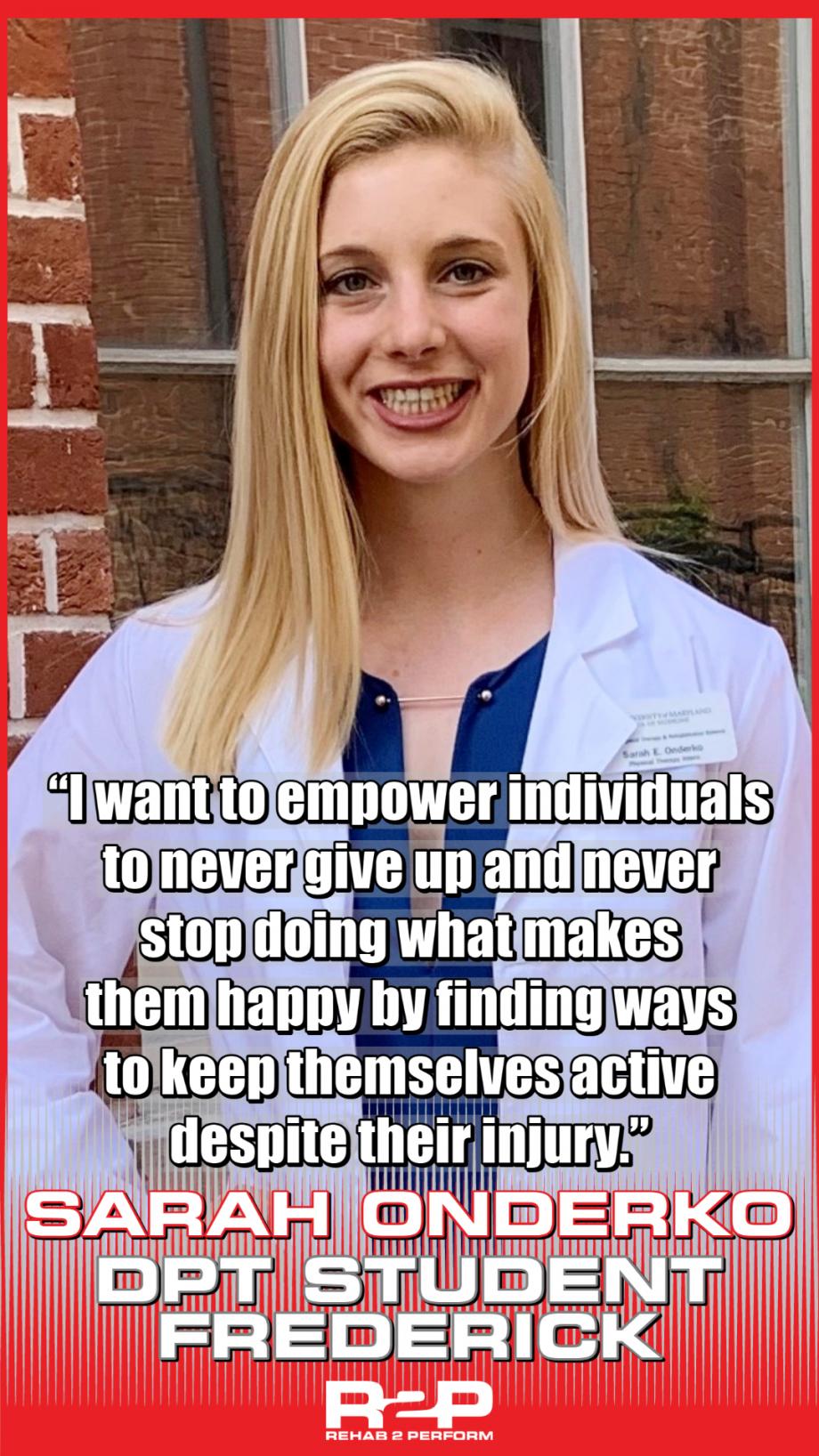 Why did you decide to enter the field of Physical Therapy?
Growing up, I knew that I wanted to work in profession that would allow me to help others and make a difference in the community. As I learned more about physical therapy, I knew that it was the profession for me because it would allow me to play an active role in the lives of patients and clients. I have always been interested in anatomy, physiology, and fitness, and physical therapy combines all of those components. I am passionate about the positive impact physical activity can have on health and wellbeing, and I want to help patients find ways to remain active while injured in order to overcome any physical limitations and continue participating in activities that they enjoy. 
What is your background?
I was born and raised in Poolesville, Maryland. I am the oldest of four children, and we all played sports growing up. There was always something going on and always a game to watch, so I have been invested in sports for most of my life. Everyone in my family is very active on a daily basis, which is one reason for my interest in health and fitness and the field of physical therapy. After spending most of my life in Maryland, I ventured to the University of South Carolina for college, where I received a B.S. in Exercise Science. I am now in my third and final year of the Doctor of Physical Therapy program at the University of Maryland School of Medicine. Even through the craziness of graduate school, I never stopped making time for my fitness in order to relieve stress and make sure that I was taking care of myself. In my free time you can either find me at the gym, spending time outdoors, doing crafts, or baking cookies at home with my mom.
What is your specialty/niche when it comes to being a future physical therapist?
As a future physical therapist, I believe my specialty/niche is working with athletes or active individuals to help them remain active despite any injuries or limitations. I am specifically interested in working with runners and individuals with low back pain. I have experienced multiple episodes of low back pain myself, and being a patient at R2P changed my attitude and my outlook about my situation and my ability to continue doing what I love to do. I want to empower athletes to never give up and never stop doing what makes them happy by finding ways to keep themselves active despite their injury. I am also very interested in working with athletes following ACL reconstruction. My brother has gone through two ACL reconstruction surgeries and I was very invested in his rehab so that I could learn from him and his therapists, and one day I hope to help athletes recover from that as well.
What are you most looking forward to joining the Rehab 2 Perform team?
I am most excited about the opportunities I will have to learn from all members of the R2P team. I have worked with various members of the team in the past as an undergrad intern at R2P, and I know that everyone has something different to offer in terms of mentorship and knowledge. I am excited to apply the skills that I have learned from PT school and personal experience to my internship and have a chance to work one on one with patients while learning new skills along the way. I know what it is like to be told by a healthcare provider to stop doing activities that you enjoy because of pain, and I know the clinicians at R2P would not tell someone that. Physical therapy as done by R2P is very unique in that it encompasses aspects of strength and conditioning to empower patients to play an active role in their own recovery rather than rely on passive interventions. I am excited to expand my knowledge and gain experience in such a unique clinical setting.
What are your plans on trying to engage and connect with the community?
I know that R2P is heavily involved in community organizations and events, and I admire the time and effort that the staff puts in to connect with the community around them. Volunteering and engaging with the community is important for me because it is a way to build relationships and make connections with people who hold similar values. As a student, I would like to be involved in any extra opportunities and any community events that R2P takes part in. While many community events have recently been impacted because of COVID, I know that R2P still finds ways to stay involved and I would like to help in any way that I can.