The Importance of Breakfast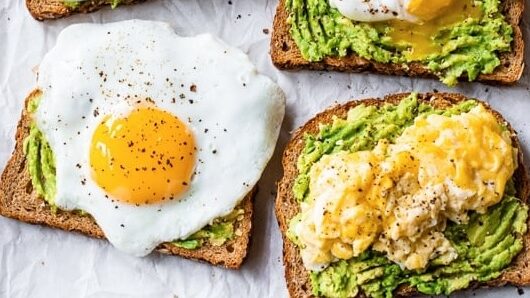 Breakfast is Key! Fuel Your Day & Set Your Mind Right
The intermittent fasting craze is still going strong and while it may be a wonderful approach for some (though never appropriate for children or adolescents), starting the day with a well balanced meal also presents advantages.
Having breakfast helps with meeting nutritional needs especially protein which is challenging to consume in adequate amounts if a main meal is skipped. I always recommend starting the day with a high protein, high fiber breakfast which helps keep you fuller throughout the day and keeps your blood sugar and energy levels stable throughout the morning.
I would recommend avoiding a breakfast that only contains carbohydrates (like cereal with milk) since this can elevate your blood sugar, and tends to promote more snacking and higher sugar cravings. I have listed some of my favorite breakfast options below. I hope this helps you rethink your breakfast plans and has you prioritizing your first meal of the day!
Jessica's Quick Loaded Avocado Toast
1 slice of sourdough bread
2 Hard Boiled Eggs
2oz of smoked salmon
½ small avocado (or ¼ of medium- large avocado)
Fresh parsley
Smear the avocado on sourdough toast. Then layer lox, sliced hard boiled eggs and top with fresh parsley. I also add tomato or pickled onions!
Nutrition: 373kcals, 24g of carbs, 4g of fiber, 18.5g of fat, 25g of Protein
Fast High Protein AM Smoothie for Breakfast
1 cup of Califia Farms Coconut Milk
⅓ cup of Plain Non-Fat Greek Yogurt
1 serving of Thorne Vanilla whey Protein Powder (link at the bottom of the recipe)
1Tbs of Peanut butter
½ cup of frozen cauliflower (you will not even taste this)
¾ cup of frozen strawberries
Add all ingredients to your blender and blend until smooth!
Nutrition: 359kcals, 22g of carbohydrates, 5g of fiber, 14g of fat and 37g of Protein
Looking for some other breakfast options, check out these recipes at Downshiftology.com, one of my go to source.
In Health & Happiness – Jessica Murgueytio, Registered Dietitian, Rehab 2 Perform
---
Nutrition Therapy Services
R2P is proud to offer individual nutrition counseling with our new registered dietitian, Jessica Murgueytio. Personalized nutrition helps your body function optimally and increases the body's ability to heal and strengthen itself. Both In-Person or from the comfort of your home, get started with your Nutrition Plan Now. Learn More Here!