Welcome Michelle Landis!
Why did you want to become involved in physical therapy?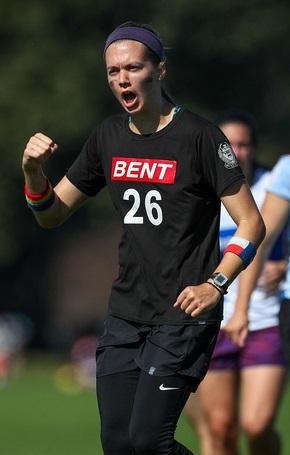 There were several events throughout my life that led me towards physical therapy. In high school, I had a very positive experience going through physical therapy following a fracture of and subsequent surgery to my left ankle. Without my physical therapist's help, I would have never been able to return to sport at a competitive level. In college, I initially wanted to go to medical school. As a captain of my Ultimate Frisbee team, I began planning and leading most practices, skills sessions, and training sessions after school. We had players with wide ranges of athletic ability, and I loved coming up with different ways to teach various skills and strategy to such a diverse group. Teaching and coaching my teammates became the highlight of my week during college. As Senior year of college rolled around, I decided to pursue a career in physical therapy for all the reasons listed above. In addition, I knew that becoming a physical therapist would allow me the necessary time with patients to provide optimal compassionate and quality care. Physical therapy is a perfect blend of my two passions: sports and science, and my love for coaching and understanding human movement. 
What is your background?
I grew up as a multi-sport athlete playing basketball and soccer since I was three years old and added volleyball into the mix in 7th grade. I continued playing club and school basketball and volleyball through high school. In college, I began playing competitive Ultimate Frisbee, a sport that combines the endurance of soccer with the cutting routes of wide receivers in football, and I still play at the elite/semi-professional level. In college, I studied molecular genetics and psychology. I initially wanted to go to medical school, but after some consideration, I decided to pursue a career in physical therapy as it allows me the necessary time with patients to give compassionate and quality care while also combining my two passions: sports and science.  Besides being a physical therapist, I am a college Ultimate Frisbee Coach, athlete, and life-long learner.
What is your specialty or niche when it comes to physical therapy?
I love working with female athlete of all ages and fitness levels from beginner to elite. However, I especially have a passion for working with young female athletes ages 8-24. As a young female athlete, I loved sports and wanted to do anything I could to become a better athlete, however in middle school and in high school, training and physical preparation for sport were barely even touched upon. While the male athletes at our school were in the weight room several times per week, I never once set foot in the weight room. As a sophomore and junior, I sought out a trainer outside of school in order to make the varsity volleyball team my senior year. And even then, I didn't really understand the importance of physical preparation for sport until my best friend taught me how to lift heavy beginning my sophomore year in college. As a performance physical therapist, I want to give back to the next generation of young female athletes, so they have access to the education and training experience early in their athletic careers.
What are you most looking forward to in joining the Rehab 2 Perform team?
The ability to provide patients with specific, compassionate one-on-one care. While most sports and orthopedic clinics require that clinicians see 2 to 3 patients at one time over the course of an hour, Rehab 2 Perform's model requires that there be 30 minutes of one-on-one patient care per PT visit. I believe that this one-on-one model significantly improves the value and quality of care that can be delivered to clients and patients. I am also looking forward to getting out in the community to educate and coach middle school and high school female athletes and coaches of female athletes about principles of physical preparation and injury prevention.
What are your plans on trying to engage and connect with the Germantown community?
I plan on primarily being engaged in middle school and high school athletics. More specifically, I plan to provide educational and hands-on learning experiences to middle school and high school female athletes and coaches of female athletes on various topics from rehabilitation to return to sport to physical preparation.