RECAP: Pitch Perfect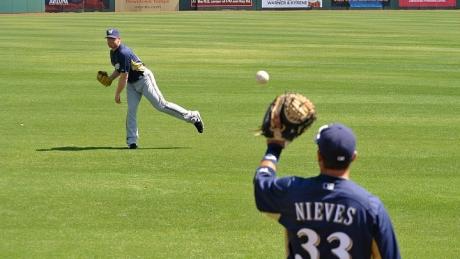 Dr. Zachary Baker, DPT, CSCS led the 6th installment of our community lecture series with a seminar titled "Pitch Perfect". The lecture covered baseball throwing mechanics, common injuries associated with the throwing motion and rehabilitation considerations to help manage these athletes. In addition, Dr. Matthew Sedgley, Sports Medicine Physician of MedStar Health, assisted with the presentation providing insight regarding the diagnostics, prognosis and medical management of baseball and softball players. The throwing motion is a very specific and unique movement that requires an intricate understanding to adequately diagnose and treat different injuries associated with it. Throwing requires a synchronous movement of the entire body to adequately generate the force and power necessary to perform the task. The total movement requires very specific and oftentimes unnatural ranges of motion, coupled with the ability to generate and control high rates of force in a very short period of time. Single leg stability, total body flexibility, rotational control and the ability to adequately decelerate are all critical components to a successful throwing motion. Many injuries sustained to the elbow, shoulder, abdomen, lower back and legs are due to an inadequacy of one of the above components. The throwing motion is broken down into 6 specific phases: the windup, stride, cocking, acceleration, deceleration and follow through. Each phase poses a different demand and oftentimes specific injuries are found repeatedly during the same phase of throwing. For example, a lot of medial elbow injuries such as Little League Elbow and Tommy John Injuries are found within the cocking phase of throwing. Meanwhile, rotator cuff injuries are often a result of the excessive strain placed on the back of the shoulder during deceleration and follow through. Appreciation of these correlations and patterns helps to better educate the athlete on why they are feeling certain symptoms and how to handle them immediately and prevent them from returning long term.  Following the lecture, videos regarding strength and conditioning and rehabilitation exercises were posted to our Rehab 2 Perform Youtube Channel.  You can find four different videos covering topics from the lecture including: lunge and reach patterns for warm-ups, hip and back mobility exercises for warm-ups, single leg strength and balance activities and medicine ball throwing routines.  Our community lecture series will continue next month with October's talk being the first one taking place at our Germantown location.  As always, all donations from these talks go to benefit the Frederick Housing Authority.  Thank you for your support and continued attention to our mission to provide education to the community! 
Below you can find those videos for referrence. 
Single Leg Strength and Balance Exercises
Warm- Up: Lunge W/ Reach Progression