R2P Now Open in Mt. Airy!
By Holly Christy, Publisher
May 29, 2019 (Originial Article HERE )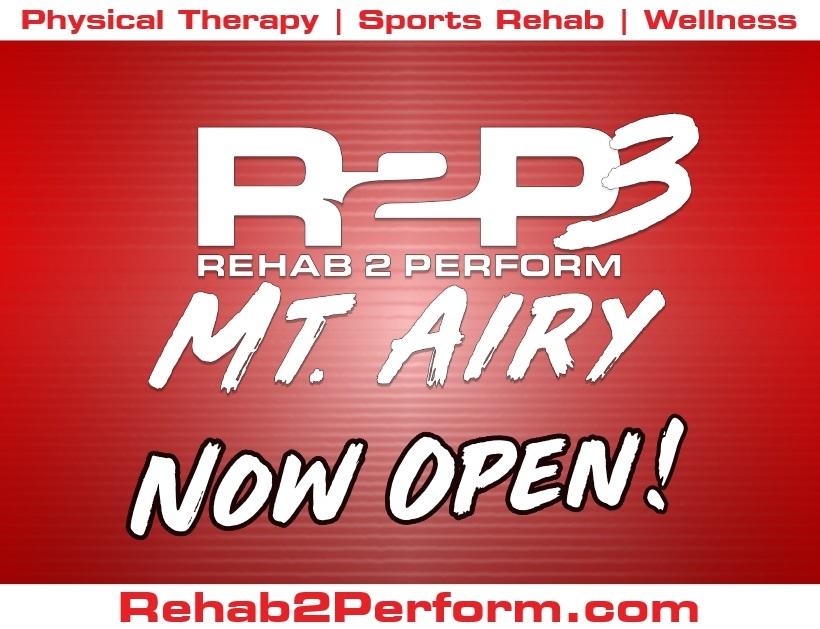 Last week Rehab2Perform opened the doors of its third location: 1202 Rising Ridge Road in Mt. Airy. Plenty of local patients have chosen to drive to their other locations in Frederick and Germantown, preferring Rehab2Perform over the other options, but now they have a more convenient way to get the treatment they count on right here in Mt. Airy.
I recently got a sneak peek at the new facility, courtesy of Dr. Josh Funk, CEO and Dr. Zach Baker, Regional Director. Like the existing locations, the new Mt. Airy Rehab2Perform is easy to get to – just minutes off I-70. It includes a treatment area with traditional PT equipment, a strength and resistance training area, and a long turf area for working with athletes. Dr. Baker says that 90% of patients at Rehab2Perform are there for PT and sports rehab, whereas about 10% come for performance and training. Whatever brings a person to Rehab2Perform, whether it's an injury or a performance goal such as improved agility or balance, they're likely to find unparalleled expertise and a community atmosphere that's been carefully cultivated for years.
Dr. Funk says that people love the "Cheers" vibe they find as patients at Rehab2Perform. "There's a connectedness of people that develops as they spend time together through the injury recovery process. They see each other often, they're encouraged by each other's results, and it's like a community hub." He attributes this unique feeling that people have about Rehab2Perform to the way they've purposefully positioned themselves as a community resource.
From 2014, when Rehab2Perform opened its first clinic, Dr. Funk and Dr. Baker have placed an emphasis on connecting with other business owners, giving back to youth sports programs, and serving the community by sharing their expertise through free community seminars and a wealth of info shared on their social media pages and newsletter. People have seen that they are purpose-driven, and it sets them apart.
Opening the Mt. Airy location is particularly exciting, as this location has plenty of growth potential over the coming years. It also brings Dr. Baker great satisfaction, as his family has been in this community for five generations. Dr. Funk tells me that the process for opening each location gets a little easier each time, but that "replicating the culture is the very difficult and very important part." However, he remains optimistic because they're already getting great feedback and are busy taking new appointments for the Mt. Airy location.
Rehab2Perform is in network with most major insurance carriers, including Medicare. For an appointment in Mt. Airy, call 301-798-4838 x4.