Move More
Most Americans do not move enough. The good news is that regular physical activity is one of the easiest ways to reduce your risk of chronic disease and to improve your quality of life.
Who are physical therapists?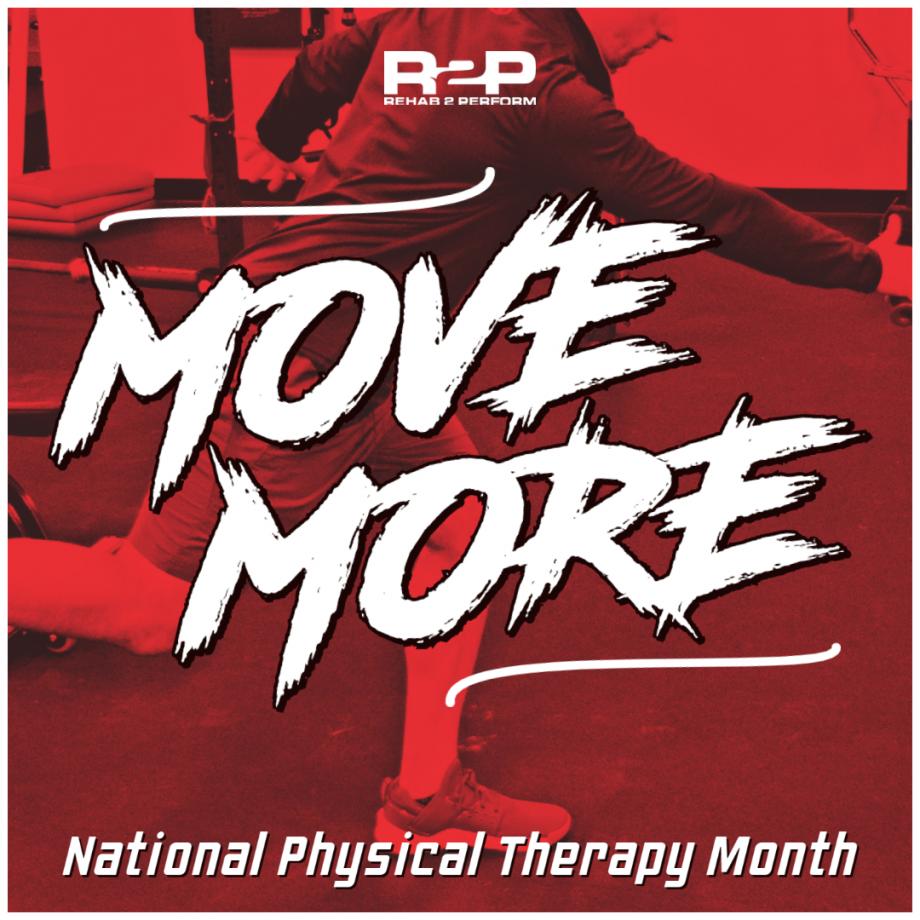 PTs are movement experts who improve quality of life through prescribed exercise, hands-on care and patient education. PTs treat people of all ages and abilities and empower them to actively take part in their own care. Our highly trained staff all have earned their Doctorate in Physical Therapy and have further education and credentials in Strength & Conditioning and other Sport Specific fields. With our unique envirnoment and atmosphere, R2P is able to set you up for success whether returning to the field, work, or normal routines.
To ensure the best possible care, PTs often work with other members of a patient's health care team. After performing an evaluation, PTs create personalized plans of care that can help you:
Improve mobility and function
Manage pain and chronic conditions
Avoid surgery
Reduce the use of opioids and other prescription drugs
Recover from injury
Reduce the risk of future injury and chronic disease
Prepare you 2 Perform at peak levels
According to the Department of Health and Human Services Facts & Statistics on physical activity, more than 80% of American adults do not get enough physical activity despite the proven benefits, such as a reduced risk of some cancers and chronic diseases, as well as improved bone health, cognitive function, weight control, and quality of life. As a result, half of adults — 117 million people — have one or more chronic diseases. The good news is that regular physical activity can help prevent and improve many chronic conditions. Barriers to movement and physical activity can be small or large, real or perceived. Whatever barriers may be preventing you from enjoying the many important health benefits of physical activity, physical therapists will partner with you to create a safe and effective program to get you moving.
Make physical activity a priority to:
Improve your memory and brain function (all age groups).
Protect against many chronic diseases.
Aid in weight management.
Lower blood pressure and improve heart health.
Improve your quality of sleep.
Reduce feelings of anxiety and depression.
Combat cancer-related fatigue.
Improve joint pain and stiffness. 
Maintain muscle strength and balance. 
Increase life span.
The R2P Difference
Rehab 2 Perform provides solutions to improve movement, increase physicality and help you perform in all areas of life. Why R2P?
THE OUTCOME
Our average patient has 9 visits! 40% less than the national average of 15. Saving you time and money.
Clients report their goals met 95% of the time and completely hit 82%!
ZERO clients reported goals 'partially' or 'not met'
96% NPS (Customer Satisifaction) Score
Our goal is to provide you with education and solutions that not only give you the physicality necessary to perform now, but perform for life.
OUR FOCUS
That focus? YOU. 
We want to know your story and what drives you. 
What are the goals you want to reach and your expectations? 
Our staff will formulate an individualized strategy to provide solutions for your specific situation. 
THE ENVIRONMENT
This is not your normal PT office!
Over 1,000 square feet of turf at each location with a large variety of functional equipment.
Open concept with great community feel and positive energy
A passionate and highly educated staff with advanced credentials and experience in sports performance training.
One-on-One evaluations, consultations and appointments for your full scheduled time.
OUR EXPERTISE
Advanced education with Doctorate of Physical Therapy credentials and a focus on modern and progressive techniques and philosophy, the R2P staff is highly skilled and certified with the industries top marks.
The majority of our team holds certification as Strength and Conditioning Specialist (CSCS) and are working towards their Sports Certified Specialization (SCS).  
Along with Certified Athletic Trainers (ATC) and dry-needling certifications, I challenge you to find a more experienced staff! 
Working with patients at all levels and backgrounds, our clinicians have practiced in settings with youth teams to professional athletes.
Looking for ways to improve your movement, need a quick tune-up to get back to a routine, or coming off a major injury? Our team has you covered. Give us a all at 301.798.4838 to get started now.