Meet Nervana, DPT Student – Simmons University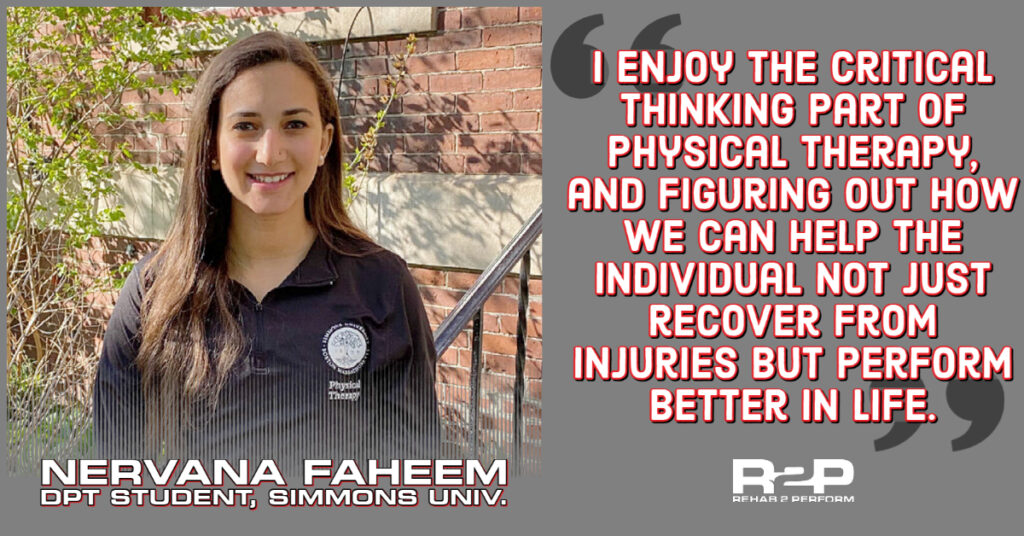 Why did you decide to enter the field of Physical Therapy?
My mother has been going to physical therapy for as long as I can remember. She has had multiple injuries and physical therapy has helped her get through a lot of it. With many interventions, the treatment is passive and the patient does not get to actively participate in the process, but watching my mother go through physical therapy, it was a different experience. The physical therapists provided patient education and activity modifications so she's able to participate in activities without worsening her condition. The active part of treatment provides the patient with a sense of empowerment and that they have control over their treatment and their recovery process. I was also drawn to the profession because we get the most patient interaction in comparison to other providers. For example, most people see their PCP once a year, therefore they are unable to create a bond, whereas in PT there is plentiful opportunity to actually get to know patients past a yearly visit. Lastly, I enjoy the critical thinking part of PT and figuring out how we can help this individual not just recover from injuries but perform better.
What is your background?
I am a first year DPT student at Simmons University in Boston. I also received my Bachelor's in Exercise Science with a Psychology minor from Simmons in 2020. I have had experience with crew, track and field, and swimming. During my senior year in undergrad, I completed an internship with Dana Farber assisting with a group fitness class for recovering patients. I've also had multiple internships in outpatient orthopedic clinics.
What is your specialty/niche when it comes to being a future physical therapist?
Although, I have not had that much exposure to different specialties, I would say that I'm most interested in orthopedics and sports-based PT. It's very exciting to work with young athletes and see their recovery and excitement to return back to the sport they love. I also enjoy the challenging component of working with an athlete because they are motivated and desire a speedy recovery, however this needs to be balanced well with their rehabilitation needs to ensure a safe recovery. Athletes are often looking for new challenges therefore creating opportunities for the clinician to be creative in programming.
What are you most looking forward to joining the Rehab 2 Perform™ team?
What I am most excited about for R2P is expanding my knowledge and learning how to personalize the treatment for each patient and treating the patient as a whole and not as a condition. I am looking forward to being challenged and growing more each day.
What are your plans on trying to engage and connect with the community?
Since COVID-19, I felt that we could not connect with our communities as much, so I'm excited to find more opportunities to engage with surrounding communities. I look forward to doing this in regards to physical therapy as well as the Frederick community. I have also never traveled to Maryland before so I am looking forward to exploring the area and helping out wherever is needed.