Meet Lawrence 'Coop' Cooper – DPT Student, Howard Univ.
Why did you decide to enter the field of Physical Therapy?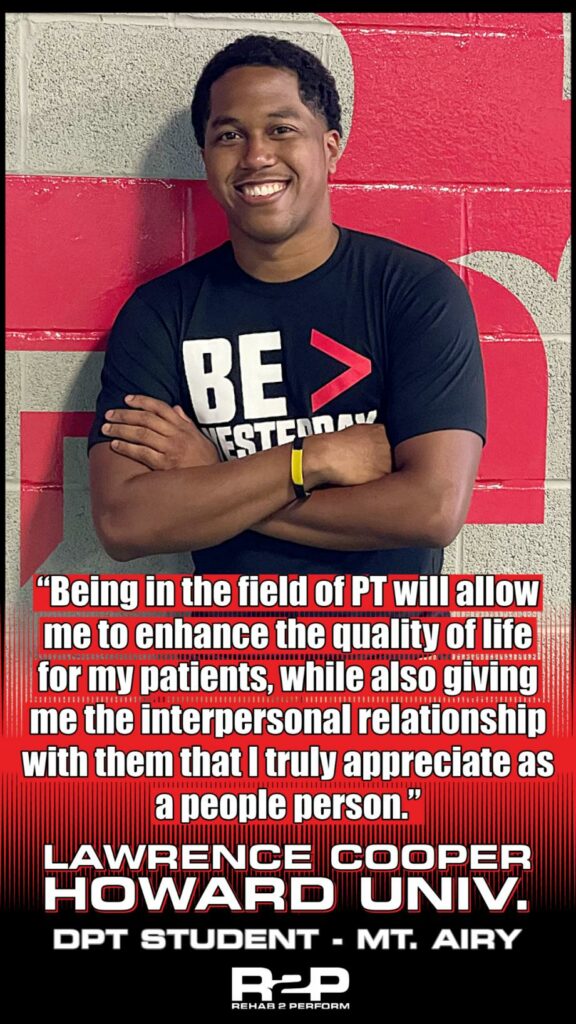 I always knew I wanted to pursue a profession in the healthcare field, but was not sure what route to take. During my junior year of high school, I was suffering from a knee condition that prevented me from participating in any sport for months. This injury became my first exposure to Physical Therapy and from that moment on, my mind was made up. Being a Physical Therapist seemed like a perfect fit for me as I have always looked at PT's as the jack of all trades due to the various skills they must possess to treat patients. PT's are a combination of the brain of a medical doctor, hands of a chiropractor and massage therapist, while possessing the creativity of a personal trainer. Being in the field of PT would allow me to enhance the quality of life for my patients, while also giving me the interpersonal relationship with patients that I truly appreciate as a people person.
What is your background?
I am a third year DPT student at Howard University in Washington, DC. I was born in Alexandria, VA and raised in Woodbridge, VA. My entire life I grew up in the suburbs, but decided to experience what city life was like and go to school in Richmond, VA. There I received my B. S. in Exercise Science at Virginia Commonwealth University in 2016. I have been physically active my entire life and come from a family that is heavily involved in sports. I was always known for my constant energy as a child, so high intensity sports such as Basketball, Track, and Cross Country became my outlets. Outside of sports and working out, I enjoy playing video games, watching basketball, listening to music, and hiking. I also coach a 10K running team in RVA during the spring and run in various 5k's and 10's around the state of Virginia.
What is your specialty/niche when it comes to being a future physical therapist?
As a Physical Therapist, I plan to use my interpersonal skills and passion to help my patients not only achieve their goals physically, but mentally as well. The physical impact of injuries and dysfunctions play a major role in our lives, but the mental impact is also something I want to make sure to highlight with every patient. The injury I suffered from in high school prevented me from participating in sports for a portion of my junior year and I will never forget the emotional struggle that I endured as a result. My goal is to aid every patient in confidently returning to the activities they enjoy without the burden and stress associated with their respective ailments.
What are you most looking forward to joining the Rehab 2 Perform™ team?
I am looking forward to an environment that is vastly different than anything I have experienced before. Previously, I have shadowed and worked at various outpatient clinics, but none had such an emphasis on performance nor the type of facility required to do what I have seen at R2P. I think this setting will challenge me to not only recall previous knowledge from school, but also learn many new concepts that I may not have been exposed to. Regardless of whether I decide to work in the performance side of PT, I believe this experience will be invaluable and will help me build everlasting relationships.
What are your plans on trying to engage and connect with the community?
One of the reasons I even knew what R2P is was because of how active they are on social media. I believe the present and future of advertising lies in social media and the sheer amount of people that can be reached on these platforms. I plan on not only reposting relevant information posted by the R2P page, but I will also participate in various challenges such as "Movement Monday" and even showing concepts/exercises that I may have learned during my experience as well. Another major part of community engagement will come with patient interaction. I am new to the Mt. Airy community, so being able to understand the demographics and populations found here will also help with me in becoming a better future clinician.