Meet Kristen, DPT Student – Touro College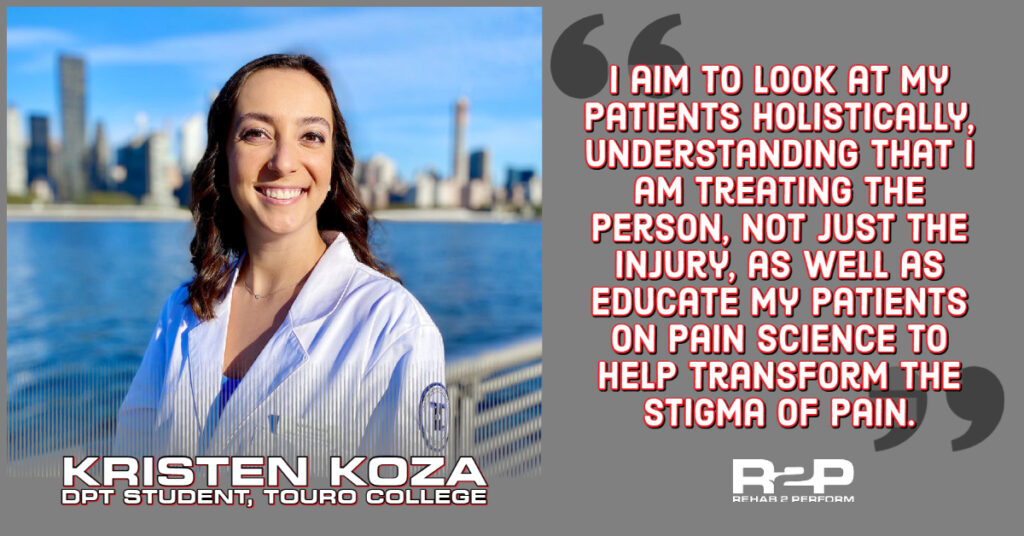 Why did you decide to enter the field of Physical Therapy?
I decided to enter the field of Physical Therapy after countless dance injuries growing up. I knew I wanted a job working to better serve the community, listen, and empower others to live life the best they can. I always had a fondness for math and science and figured a job in healthcare was right for me. I found that PT was an approachable and integral role in the healthcare professions. Spending time with patients to see their progress and develop a rapport with them makes the job just that more valuable. When I was in Physical Therapy for my various dance injuries, I did not feel like my Physical Therapist could relate to my return to sport as much as if I were going back to basketball, soccer, or lacrosse. So, I started on my journey to be a PT for adolescent dancers.
What is your background?
I grew up in Severna Park, MD where I danced at a local studio, ballet company, and high school dance company. I completed my undergrad at New York University's Gallatin School of Individualized Study, where I created my own major, concentrating in, "The Human Body: Action, Image, Experience." I focused my studies on the PT school pre-requisites, dance, art, and psychology. With my undergraduate career wrapping up, I focused on clinical experiences at various PT locations in New York City and I continue to live there today. Having just finished my second year of PT school at Touro College, I have volunteered in a variety of PT settings, from performing arts and sports rehabilitation, to inpatient brain trauma/spinal cord rehabilitation and pediatrics in a specialized education school.
What is your specialty/niche when it comes to being a future physical therapist?
My specialty when it comes to being a future physical therapist will be actively listening to my patients, and working with them in a calm manner, assuring that I am there to support them throughout their course of treatment. I aim to look at my patients holistically, understanding that I am treating the person, not just the injury, as well as educate my patients on pain science to help transform the stigma of pain. I am leaning towards focusing on manual therapy in a sports or orthopedic setting.
What are you most looking forward to joining the Rehab 2 Perform™ team?
I am most looking forward to being hands on in a sports facility with a team that is super knowledgeable in its field and keeping up with the latest research for the best course of treatment. The facility looks top notch with the latest and greatest equipment to allow top of the line care. I am also looking forward to working close to home!
What are your plans on trying to engage and connect with the community?
During my time at Rehab 2 Perform™, I want to start my day off with a smile and engage with each patient like they are family. I like to check in with my patients, taking note of how they are doing beyond their injury to better understand what they strive to get back to, and their lifestyle. With this rapport, I can gain trust with each patient, and provide the best care possible. I like to be encouraging during treatment, providing motivation with calm, positive reinforcement. I want to leave the clinic feeling like I made a difference in a patient's life each day.