Meet Kellen Cannon, DPT Student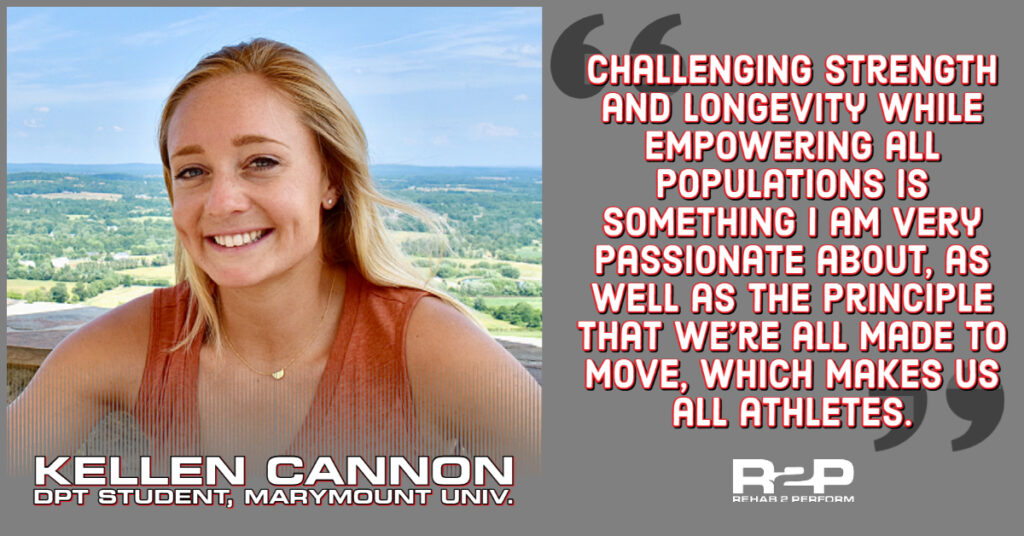 Why did you decide to enter the field of Physical Therapy?
Starting college as a young naive 18 year old I flung myself into the first think (that I thought) I wanted to do-teach. I liked kids, so I said let's do it-right? A year and a half into undergrad I was warming the bench on my college lacrosse team, and also realizing I had no business in the process of disciplining 20-30 young scholarly minds. During this time, I was intensely focused on my frustration as an athlete and getting better in my sport, which drew me to the gym. Quickly, exercise became my outlet, a source of my greatest confidence, a place where I could put frustrations to work, and a pivotal point of growth in my life, not just on the field but in my overall well-being. Following the footsteps of my older brother who was in Physical Therapy school at the time, I was constantly going to him for advice- pummeling him with texts, standing absolutely dumbstruck by a barbell. I wanted to know how to get faster on the field, and how to get strong enough to make myself relevant athletically. I was envying how much he knew, and eventually I realized this is it. This is what a calling is about, and it's not a randomly selected endeavour because you think toddlers are cute. Exercise changed my life, and it would have been a total disservice to my calling not to become an expert so I could have a presence in changing the lives of others in the manner it changed mine. It was a long road ahead from my 20 year old self, two years deep in education courses, but a DPT was the only way to go.
What is your background?
I grew up in a small town by the Delaware beaches where you played sports year round, and then took your athletic talents to your summer job on the beach patrol. My small county had a heavy emphasis on athletic competition, and it was no different being the second oldest of 5 in my household. I played just about every sport under the sun starting with soccer, and T-ball,lacrosse, field hockey, basketball, cross country, swim-you name it. Lacrosse was the one that stuck it out for the long-haul, and was integral to my decision to transfer to Marymount University where I started my undergrad studies in Health Science Pre-PT. As a Saint I had the opportunity to serve as a captain for two years, playing the sport I loved with some of the best people I've ever met, and guided by the most amazing coaching staff. It was in this role that I also had my first dose of the heartbreak of a broken patella and chronic knee pain which further reinforced my decision to pursue the career that services athletes in all their orthopedic downfalls. Currently, I remain at Marymount as a third year DPT student while serving undergraduates in academic success as a graduate assistant. When I'm not doing that I'm doing my best to empower clients in personal training, as well as teaching high energy circuit training with Next Phase Studios.
What is your specialty/niche when it comes to being a future physical therapist?
I obviously resonate immensely with athletes, and empathize greatly with the passion that is invested in serving as an integral part of a team fighting for a common goal. Being a retired athlete I now see that the value in athletics is offered in the themes of challenges, growth, communication and teamwork. The opportunity to be a part of an athlete overcoming the challenges of orthopedic injury, and the rebuilding process is very rewarding to me. Along with this, I am also deeply drawn to individuals that doubt what they're capable of. With my experience in personal training, and in the clinic I have found a lot of my passion is in challenging others to break preconceived notions regarding their personal limitations. In all people, I truly believe the body is the best tool we have for the rest of our lives. Challenging strength and longevity while empowering all populations is something I am very passionate about, as well as the principle that we're all made to move which makes us all athletes.
What are you most looking forward to joining the Rehab 2 Perform™ team?
I'm so excited to learn more from professionals that are equally as passionate as I am about serving the athletic community and beyond. The awesome environment that R2P offers their clients is exactly how I envision every facility performing clinical exercise to be. I am looking forward to being able to translate my passion for fitness into a setting that is not strictly clinical in a manner that is dull or dry, but rather engaging and inspires autonomy. Finishing up school in this last clinical I'm very much looking forward to putting more life to all the textbook concepts I've learned, and growing in a manner that challenges me to push beyond baseline as a clinician.
What are your plans on trying to engage and connect with the community?
I think engaging with the community is so important as a physical therapist. Other careers in exercise have found great success in marketing exercise as something that holds immense value. I believe there are a multitude of PT's that do this well, and I would like to find my personal twist on expanding the value of PT beyond it just being 'what the doctor ordered'. Through graduate school I felt pulled to have my hands on every little job that communicates the value of fitness to people, and wish to continue to filter in community outreach within my career. I've never felt that PT belongs in the walls of a clinic waiting for patients to come, and hope to possibly even get involved in youth sports once I graduate. I see physical therapy as something that is relevant to every human, and hope as I grow in my career to continue to serve as an advocate for PT whether it be through social media, person to person interaction training clients, or leading by example within my community.