Meet Kayla! New in Mt. Airy
Why did you want to become involved in physical therapy?
In its simplest form, I wanted to be a physical therapist so I can help people. I wanted a way to integrate my passion for athletics and my desire to help, and I felt that PT was a product of those goals. Being able to create relationships with individuals and make a lasting impact on their life is why I wanted to become involved and stay committed to physical therapy.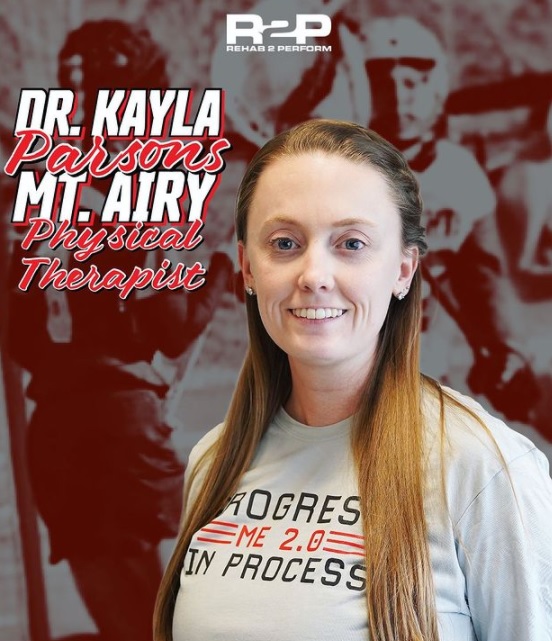 What is your background?
I grew up in Hamilton, NJ where I played sports my entire life. Soccer, basketball, field hockey, and lacrosse, there was almost never a night where I didn't have practice or a game. Athletics fueled me, and my family, and has played such an integral role in who I am as a person today. Beyond playing, I love watching sports as well, from Steelers football on Sundays to the Phillies all spring and summer.
I ventured to Maryland for college where I went to Hood and continued my athletics career. I had the opportunity to play lacrosse for over a year, then following an injury, decided to take a managerial role for the remainder of my collegiate career. Throughout college, I held multiple jobs, one in food service, a few through the college, and even interned at Rehab 2 Perform for a few months. I moved closer to home to pursue a Doctorate of Physical Therapy at Arcadia University in Glenside, PA. Although interrupted by the pandemic, the 2.5 years of graduate school were the most challenging yet rewarding years of my life.
What is your specialty or niche when it comes to physical therapy?
Sports rehabilitation is my overarching passion when it comes to physical therapy. During my time in the clinical setting, I thoroughly enjoyed working with those post-op, especially ACL and UCL reconstruction. From helping someone walk again then progressing to running, kicking, and shooting; watching and being a part of this transition is what I am most passionate about.
What are you most looking forward to in joining the Rehab 2 Perform team?
Helping people get better and be empowered to tackle their goals is what I am most looking forward to as I grow in my role. I am excited to join a team that is so well known and respected in the community. The level of passion within this team is insurmountable and it reflects within the relationships and outcomes of the patients. I am very excited to learn from the individuals on this team and grow the profession each day.
What are your plans on trying to engage and connect with the community?
Each day, I plan to create a safe, welcoming, therapeutic environment. I plan on creating valuable, professional relationships with each patient and anyone that is a part in the R2P family. Outside of the clinic, I plan to participate in events as often as I can to promote the profession and the values of R2P.