Meet Katie, Dpt Student – Belmont
Why did you decide to enter the field of Physical Therapy?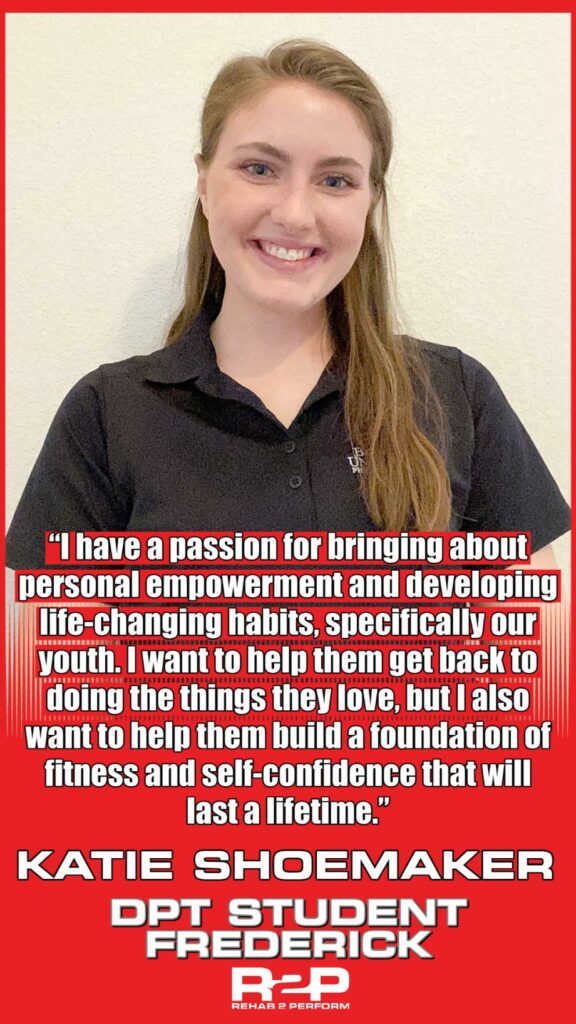 I grew up as an extremely active child. My parents encouraged my sisters and I to try as many things as possible. And I did! I played softball, basketball, soccer, figure skated, danced, rode horses, and then I fell in love with lacrosse! I played year-round for all of high school and never stopped moving! However, when I was 18 years old, I was diagnosed with a chronic illness that changed my life. Over the course of the illness, I temporarily lost most of my lower extremity function due to severe joint pain and deterioration. I felt helpless, discouraged, weak and frustrated. I will never forget the first day I met my Physical Therapist. My PT invested in me as a person and not just a diagnosis or an exercise plan. She took the time to get to know me and discuss my goals and interests and what was important to me. It was then that I began to picture myself pursuing this career and what eventually led me to where I am now. In my experience working with patients, I often see that many of them are battling the same challenges that I remember all too well. I can not only sympathize but empathize. Traveling that journey to recovery with them only makes the celebration of their progress and rehabilitation that much more rewarding in the end.
What is your background?
I am a third year DPT student at Belmont University in Nashville, TN. I am a Frederick County native and grew up in Walkersville. I earned by B.A. in Exercise Science and Physical Education at McDaniel College in 2017 and then traveled to Music City to earn my DPT. I have a passion for volunteering and community engagement and served as a volunteer Young Life leader in Frederick County for 5 years. Although my athletic career has been put on hold, I love to stay active. I love hiking, running, kayaking, and have been getting more into weightlifting as of late. I am excited to broaden my horizons in the world of sports and conditioning, as I believe it will make me a better resource for my patients and a more effective clinician.
What is your specialty/niche when it comes to being a future physical therapist?
I have a passion for bringing about personal empowerment and developing life-changing habits. Specifically, I am looking to pursue a future working with youth. Youth is such a transformative time in a person's life and is a time when character is built. It is a unique season to pour into someone's life, especially when a life-changing event such as a sports injury occurs. I want to help them get back to doing the things they love, but I also want to help them build a foundation of fitness and self-confidence that will last a lifetime. Youth athletes are such an important part of any community, and I want to use my set of skills and knowledge to invest in them.
What are you most looking forward to joining the Rehab 2 Perform team?
I am looking forward to working in a vibrant, active, and challenging environment. I am looking forward to further developing my clinical reasoning and improving my abilities as a therapist. I am so excited to learn more about exercise prescription and treatment progression. Lastly, I am looking forward to connecting with patients and serving the wonderful Frederick community that has helped shape me into the person I am today!
What are your plans on trying to engage and connect with the community?
One of the key points of engagement in our culture today, specifically during a worldwide pandemic, is social media. I plan to get the word out about all R2P has to offer and keep the community up to date on what is going on there! Additionally, I have been blessed to have connections with local high schools through previous volunteer work and would love to be a point of contact for them and be able to connect local athletes with the best physical therapy Frederick has to offer!