Meet Jill, DPT Student, Temple
Why did you decide to enter the field of Physical Therapy?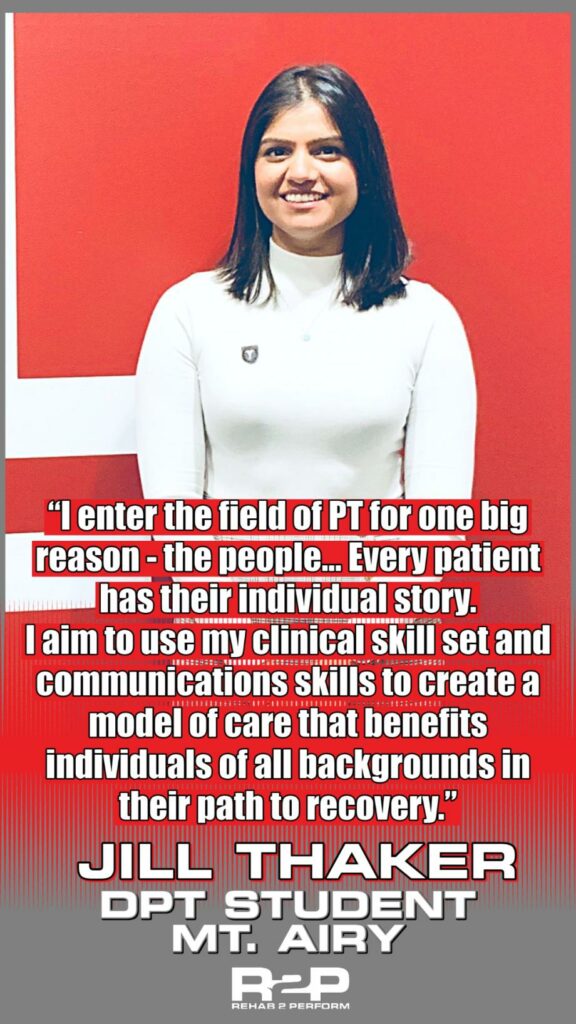 After exploring various healthcare careers through shadowing, volunteering and working, I decided to enter the field of Physical Therapy for one big reason – the people. I always knew I wanted to have a career in healthcare but was unsure of exactly where my place was. After my first week of shadowing at a local outpatient PT clinic I had a lot to reflect upon. I was fascinated by the clinic environment! Every patient all had their individual story – the journey of how they got to PT and where they were hoping PT would take them. Even though I was just shadowing,
I felt like I was impacting the patients' life in a positive way through conversation. Soon, I learned more about the responsibilities of a PT aide and starting working at the clinic. As I spent more time there I was fascinated by treatment provided and the relationships built in the span of weeks/months. When I got my first handwritten "Thank You" card was when I knew Physical Therapy is for me, and I am for Physical Therapy. I want to help individuals live their life to the fullest by guiding them through their journey of recovery.
What is your background?
I am currently a third-year DPT student as well as a Masters student at Temple University in Philadelphia, PA. I graduated from the University of Toronto in 2017 with my Bachelors in Science, majoring in Neuroscience with a double major in Psychology and Biology. Along with Physical Therapy I am very passionate about Neuroscience and how it relates to human movement. I was born in India, but have lived in the United States and Canada for a majority of my life. Moving around has made me very adaptable to new environments and I love traveling and learning about other cultures. When I'm not engaged in school work I enjoy being outdoors – hiking, biking, kayaking, etc. I also enjoying maintaining a personal blog on Instagram where I share my journey in PT school, discuss health & wellness and lifestyle topics, and connect with likeminded individual in the healthcare field (@thedptlife).
What is your specialty/niche when it comes to being a future physical therapist?
As a future physical therapist, I aim to use my clinical skill set and communications skills to create a model of care that benefits individuals of all backgrounds in their path to recovery. Whether I am working with high level athletes, kids, the geriatric population or TBI patients, my goal is to help them achieve their goals. Currently, I aim to become a well-rounded physical therapist while learning more about my specific strengths in the field.
What are you most looking forward to joining the Rehab 2 Perform team?
I am really excited about working with like-minded individuals and learning more through evidenced-based practice! Rehab 2 Perform has a very modern practice model and goes above and beyond to engage with the community – through blogs, social media, podcast etc. I am really looking forward to learning clinical skills and well as the various ways we can connect with the community – the modern ways.
What are your plans on trying to engage and connect with the community?
Engaging and connecting with the community is one of my favorite parts about being in a healthcare field! Not only will I make every effort to get to know the patients that come to Rehab 2 Perform, I would love to help organize COVID-friendly community outreach events in Mt. Airy as well as the other Rehab 2 Perform locations. I also use social media as a way to connect with individuals in the community and plan to heavily incorporate my learning experience at Rehab 2 Perform and share helpful information to my audience. I am new to Mt. Airy so I plan on exploring the area and make an effort to connect with local businesses! I am very excited to learn more the current community outreach work that Rehab 2 Perform does and add to it!