Meet Evann, DPT Student – UMES
Why did you decide to enter the field of Physical Therapy?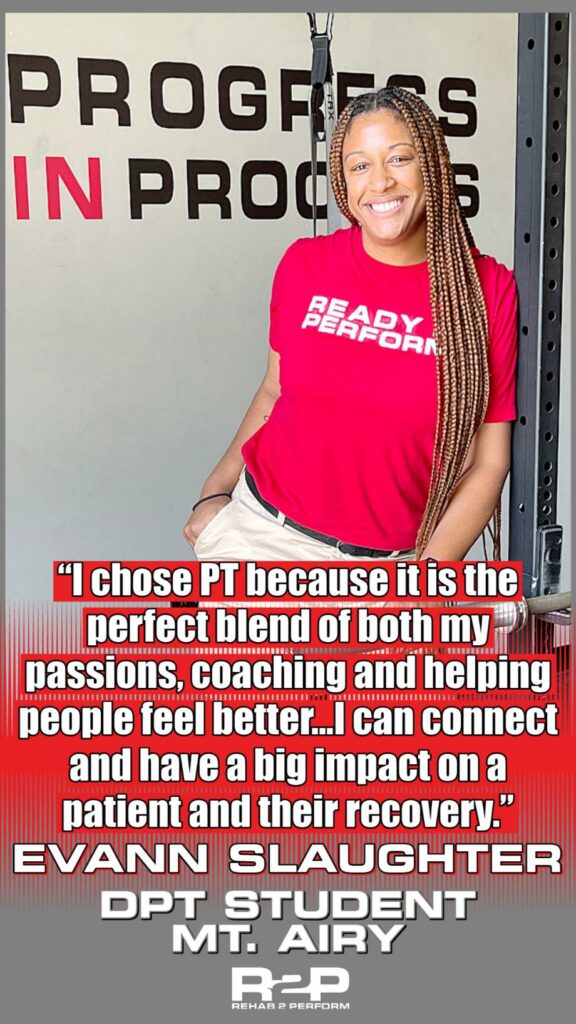 I chose physical therapy because it is the perfect blend of both my passions, coaching and helping people feel better. I've been coaching volleyball at various levels for almost 10 years now and it is always amazing to see the strides the players make over the season. After shadowing various healthcare jobs and working as a dialysis technician for a year, I realized I could connect the most and have the biggest impact on a patient and their recovery with Physical Therapy. Seeing so many similarities in types of progressions and creation of meaningful relationships between my athletes and the PT patients I saw, made choosing PT the easiest decision ever.
What is your background?
I am currently a 3rd year DPT student at the University of Maryland Eastern Shore, graduating this September. I grew up in Prince Georges county, living in Forestville, MD then moving to Clinton, MD. I have always been active ever since I was younger but I mostly gravitated to volleyball, track & field and basketball. I ended up sticking with volleyball throughout high school and college, playing at Stony Brook University where I recieved my BA in Anthropology in 2014. After graduation, (and two ACL reconstructions) I played professional volleyball in Germany in the second Bundesliga for two years before retiring to attend PT school. In addition to attending PT school at UMES, I am also an assistant coach to the volleyball team as well. In my free time, I like to watch YouTube and anime, hang out with my friends and go to the beach.
What is your specialty/niche when it comes to being a future physical therapist?
This comes as no surprise, but I believe my niche would definitely be with volleyball players primarily then overhead athletes in general and ACL reconstruction rehabilitation. I have a soft spot for volleyball players because volleyball really helped me become an all around more confident person.
What are you most looking forward to joining the Rehab 2 Perform team?
I'm most looking forward to learning more about advanced rehab and how to apply and expand the concepts I learned in school to more complex and active patients. I am also looking forward to solidifying that sports rehabilitation is something I want to go into after graduation.
What are your plans on trying to engage and connect with the community?
I LOVE social media! I plan on putting out a series on Instagram focusing on health literacy and dispelling common myths about certain healthcare conditions. In underserved communities, especially black and brown ones, health literacy is low and often affects healthcare outcomes and even the willingness to go see a healthcare professional. Being a healthcare professional belonging to this community, I would love to be a part of educating people who look like me about taking control of their own health and becoming more comfortable and confident with our healthcare system.