Meet Dr. Sam Curbelo, DPT | Sports Resident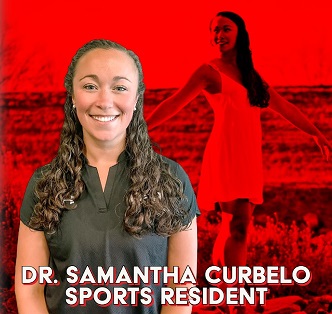 Sam joins our team as our Sports Resident! The Sports Residency program provides a physical therapist with a unique outpatient clinical experience and sports exposure, guided mentorship and didactic knowledge needed to become a highly competent and confident, board-certified sports clinical specialist. The residency graduate will use a collaborative, evidence-informed approach to deliver the highest quality of care to athletes and patients of all ages and competitive levels.
Get to know Sam!
Why did you want to become involved in physical therapy?
When I was little my mom was a PTA and worked with traumatic brain injury and stroke survivors and I would go to work with her and get to see how important she was to each person's recovery. I was also a dancer and suffered multiple injuries. Fortunately, I had the opportunity to work with a former professional ballet dancer as my Physical Therapist. As a professional dancer she understood my goal to get back to dancing and she pushed me throughout my recovery. I love working with people, specifically kids and younger adults and physical therapy allows me to do this.
What is your background?
I have danced my whole life, I also played lacrosse through high school. I studied public health science at the University of Maryland and then continued on to PT school at the University of Delaware. One of my rotations was at Elite Sports Physical Therapy in New Jersey. I learned a lot about working with athletes and how to better serve this population which is what drew me towards doing a sports residency specifically at R2P.
What is your specialty or niche when it comes to physical therapy?
I would say that I work really well with high school/young adults, but I also love working with younger kids as well. I really enjoy ACL rehab and would say I have had a decent amount of experience with the ACL rehab process. I also really enjoy working with other athletes, baseball/softball players along with working with dancers.
What are you most looking forward to in joining the Rehab 2 Perform™ team?
I am excited to be working with a group of people and in an environment where I can learn not just through my own experience but through the other therapist at R2P and gain valuable experience as a PT.
What are your plans on trying to engage and connect with the community?
I would like to reach out to various dance communities including my own from Annapolis and educate dancers on how to keep their bodies healthy and safe.