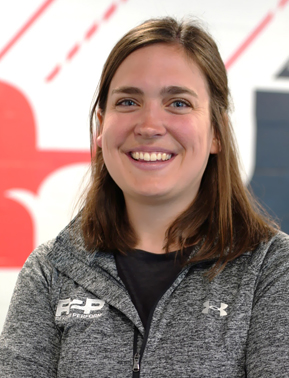 Why did you want to become involved in physical therapy?
Physical therapy is the perfect career to meld my passion for athletics and my interest in science. I love helping patients to return to their favorite activity and I find long-term success comes when patients understand the why behind the rehab process.
What is your background?
I grew up in Towson, Maryland and have been obsessed with sports from a young age. My competitive focus became geared towards distance running and racquet sports, including tennis and pickleball.
This passion for athletics led me to get my first internship in physical therapy at age 17, and I have been involved with patient care ever since. From there, I earned my Bachelors of Science in Kinesiology and Doctorate of Physical Therapy from the University of Maryland. Prior to joining R2P, I have been practicing as an outpatient orthopedic physical therapist with a group of orthopedic surgeons where I gained experience with post-operative care and rehab with a wide variety of patients including high school and tactile athletes.
What is your specialty or niche when it comes to physical therapy?
I have a strong background with post-operative care and love being able to assist patients on their rehab journey from the very beginning to return to sport. Some of my favorite patients to work with are endurance athletes and racquet sport athletes.
What are you most looking forward to in joining the Rehab 2 Perform team?
I am excited to be surrounded by such a passionate and knowledgeable team with a common goal of collaborating and growing as clinicians to provide the best possible care to patients!
What are your plans on trying to engage and connect with the community?
Outside of the clinic, I plan to get involved with the local running and pickleball communities in Annapolis with a goal of empowering athletes to reach their maximum potential through an understanding of injury prevention and capacity training involved in sports rehab.