Meet Brett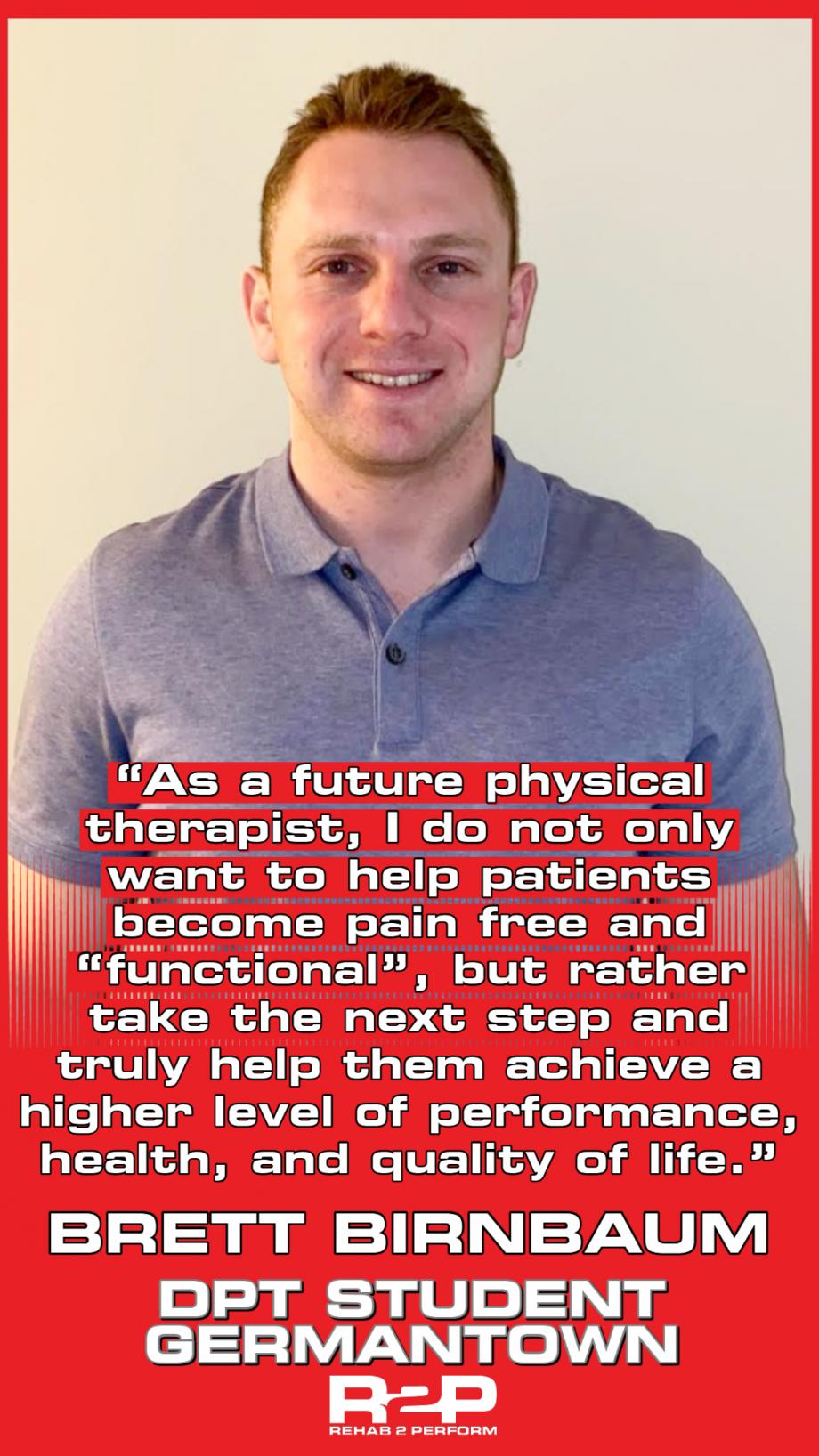 Why did you decide to enter the field of Physical Therapy?
Growing up playing sports and being introduced to the gym at an early age, I knew that I always wanted my career to involve sports in some capacity. At first, I thought strength and conditioning would be the best route. However, while interning at a sports performance facility after graduating high school, I became intrigued with process of helping athletes overcome both nagging aches and pains as well as more serious injuries in order to return to competition at a high level. Once I realized that a career in Physical Therapy would allow me to combine my interests in both training and rehab, I was convinced this was the right path for me.
What is your background?
I am a third year DPT student at Stony Brook University in Stony Brook, New York. I grew up in New Jersey and went to college at the University of Michigan where I graduated in 2017 with a degree in Movement Science. I grew up playing baseball and football, and training for these sports sparked my interest in fitness, exercise, and rehab. Various internships and shadowing opportunities in both strength and conditioning and physical therapy settings throughout college ultimately led me to pursue a career in physical therapy. In my free time, I enjoy reading, following the NY Mets, NY Giants, and the Michigan Wolverines, binge-watching The Sopranos, and lifting weights.
What is your specialty/niche when it comes to being a future physical therapist?
As a future physical therapist, I want to make sure I incorporate my background of fitness, exercise, and sports performance training into my model of care. I do not only want to help patients become pain free and "functional", but rather take the next step and truly help them achieve a higher level of performance, health, and quality of life. Whether this is means guiding an athlete through a high level sports performance program or introducing a consistent exercise program for the first time, I am passionate about doing all I can to help my patients live active, healthy, and fulfilling lifestyles.
What are you most looking forward to joining the Rehab 2 Perform team?
I am most looking forward to joining a team of like-minded individuals who truly practice what they preach and implements the values and principles they discuss. There are many individuals in the physical therapy field that "talk the talk," but do not necessarily "walk the walk." The team at R2P is clearly one that actually "walks the walk." Through social media postings, podcasts, and the Online Summit that I virtually attended this past summer, it is evident that R2P has clearly defined values across multiple domains of physical therapy, including patient care, community engagement, and the finer details of performance and rehab, and that the team takes the application of these values very seriously. This is the kind of physical therapist that I strive to be, as I believe living up to this standard is both beneficial for our patients as well as the physical therapy field as a whole. I am very much looking forward to the opportunity to learn from, and hopefully contribute to, a team that is at the forefront of elevating the standards of our field.
What are your plans on trying to engage and connect with the community?
Engaging with patients and the community is an underrated but essential part of achieving optimal patient outcomes, and is something I will place a high value on while at R2P. First and foremost, I will make every effort to introduce myself and get to know both the staff and patients at the clinic. In addition, I will make sure to get to know the Germantown area such as which high schools the younger athletes go to, where the popular restaurants are, and what sports teams the patients root for. This will help me connect with the patients as well as show my genuine interest not only in their successful rehab, but also in them as a person. Finally, I do want to make an effort to engage on social media more frequently. This is not something I do much of currently, but I realize its value as a soon-to-be professional and I will work to improve on it during my time at R2P.