Meet Anthony Perry, DPT Student - WVU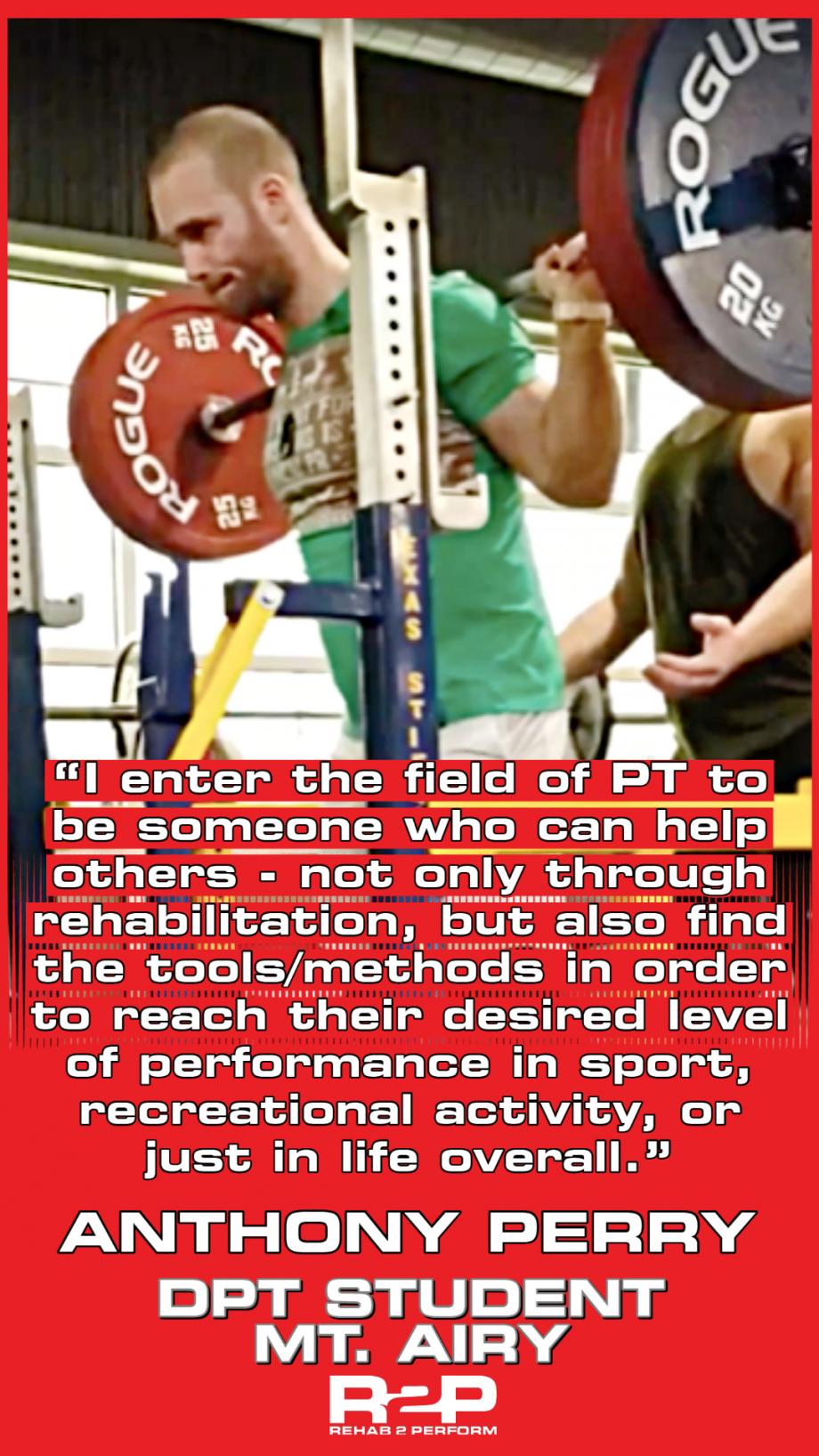 Why did you decide to enter the field of Physical Therapy?
Prior to college I had no experience with physical therapy and didn't exactly know what it was. As I played football, I was able to get a better understanding of physical therapy and strength and conditioning coaching. Both routes became my two career interests as I was pursuing my BS in kinesiology. I was able to experience the rehabilitation process with PT and ATC through my own injuries and by observing what my teammates went through. Following graduation in 2013, I decided to take a strength and conditioning internship with the team which made me decide I wanted to pursue a career in PT. While looking into additional courses required for PT school applications, I was diagnosed with cancer which set me back in my journey to purse PT. I am proud to say I am a survivor and the experience allowed me to learn valuable lessons about the rehabilitation process. Through my self-rehabilitation process, I was able to work as a PT aid, further gain an appreciation for PT, and acquire a mentor along the way. This journey allowed me to experience not just the physical aspects of rehabilitation but the mental aspects of rehabilitation in new ways outside of athletics. The passion I have for PT has only grown throughout the years because I want to be able to be part of the process of someone's recovery and aid in progress towards overcoming their current pain or limitations. I decided to enter the field of PT to be someone who can help others - not only through rehabilitation, but also find the tools/methods in order to reach their desired level of performance in sport, recreational activity, or just in life overall.    
What is your background?
I was born and raised in Woodstock, MD. For undergrad, I attended University of Maryland where I was able to live out my childhood dream of playing football for the Terps as a walk-on. I started as an architecture major but switched to kinesiology after having more exposure to physical therapy within my athletic career. After graduating UMD, I worked as a PT aide for four years where I picked up an interest for Olympic weightlifting and powerlifting. In 2018, I was fortunate enough to be accepted into the WVU DPT program class of 2021. While in school I was able to join the WVU powerlifting team and set a few Drug-tested USPA MD state records for bench and squat. Attending WVU and being part of a team throughout my three years has been such a great experience and a blessing.
What is your specialty/niche when it comes to being a future physical therapist?
My background in sports, experience as a PT aide, personal rehabilitation journeys, and strength training interest have all aided in defining who I want to be as a future PT. Experience and passion for sports I was involved in and currently involved in allows me to experience all aspects that come with recovery at various points in performance. I feel special emphasis should always be put towards giving patients the tools to achieve their goals to pursue greater performance in the activities they love. This allows them to have the tools to achieve the greatest quality of life for themselves. My experiences will allow me to work with athletes and active individuals to help them to identify limitations they may have and give them the proper tools/interventions to help them increase their performance in their sport or everyday life.
What are you most looking forward to joining the Rehab 2 Perform team?
I am looking forward to working with a group of PTs with various backgrounds that aid in rehabilitation in all aspects of performance. I want to be part of a team that promotes living an active lifestyle and helps show people the importance of movement.  I have always felt the mixture of a gym environment with the rehabilitation/physical therapy environment would be the most beneficial setup for a PT clinic and Rehab 2 Perform fits this view completely. I am very excited for this experience so I can learn and grow into a better physical therapist. I look forward to being in a learning environment that promotes innovation, performance, and evidence-based practice, as well as a great rehabilitation experience.
What are your plans on trying to engage and connect with the community?
I plan on being a part of any outreach groups or other opportunities to work with the surrounding community in any way possible. This helps to establish connections with various members of the community and work with colleagues for a greater cause. I would enjoy going to various sports teams and working with them on sport specific performance training and providing tips about lifting to encourage better utilization of strength training to aid in injury prevention. Rehab 2 Perform has a strong social media presence so I would be eager to engage similarly with the community through social media. I also have a lot of interest in learning more about the R2P+ program because of my experience with developing strength training/weightlifting/powerlifting focused training programs for various myself, family, friends, and teammates.