Meet Abby, DPT Student – Elon University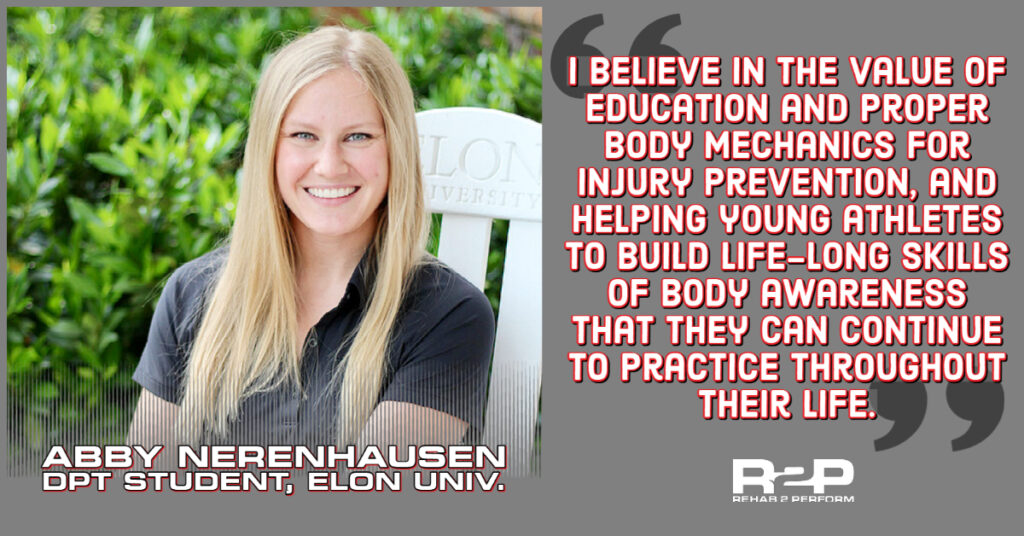 Why did you decide to enter the field of Physical Therapy?
I grew up in a small town in Southeastern Minnesota. The benefits of growing up in a small town with small class sizes is that you get the opportunity to play multiple sports! I signed up to play volleyball, basketball, and track and field in elementary school and stuck with those same sports throughout high school. I also played on traveling teams requiring me to play two sports in one season. Growing up, I always struggled to decide what I wanted to do for the rest of my life. One year, my track and field 4*1 and 4*2 team were on track to make it to state. All was well until I had a setback with an injury. All I was told to do was ice and rest which led to me feeling helpless and that I was letting my team down. I kept thinking that there had to be something more that I could be doing but didn't even know physical therapy was an option. That year I connected the dots between my interest with sports, and the way the body heals and moves, to physical therapy as the career path for me.
What is your background?
I am a current a 3rd year DPT student at Elon University. I grew up in an extremely small town in Minnesota and moved to Pennsylvania for Undergrad where I attended Shippensburg University and received my B.S. in Exercise Science in 2017. I have been involved in sports ever since I could remember. Although I did not play on a college sports team, I continued to be active during undergrad in intramurals and a local co-ed volleyball league. I also had a passion to learn and understand powerlifting and decided to join a CrossFit gym where I learned new skills that I continue to use to this day! Recently, I've taken up running as this has been the most challenging for me to progress with so far. I'm hoping my experiences with my athletic background can be a resource for my patients while also help me to connect and understand my future patients.
What is your specialty/niche when it comes to being a future physical therapist?
Growing up, I was never introduced to strength training until I was at the varsity level in one of the 3 sports I played. It was only then when I was given a mandatory exercise program but was not provided any guidance on how to perform the exercises correctly or provided with proper supervision. I have a special interest working with young volleyball players, especially with proper landing mechanics and prevention of ACL tears which is common within the sport. I recently spent a day learning how to perform athletic testing to obtain baseline values for incoming athletes prior to the start of their sport season. This testing provides an opportunity to collect data to determine if an athlete is in the normative data range for their age / sport and can highlight individuals who appear to be at a greater risk for injury through their performance on the tests. I believe in the value of education and proper body mechanics for injury prevention and helping young athletes to build life-long skills of body awareness that they can continue to practice throughout their life.
What are you most looking forward to joining the Rehab 2 Perform™ team?
I am really looking forward to learning a variety of skills and techniques as well as gaining more hands on experiences with patients due to COVID limiting in person exposure. R2P really puts an emphasis on student education and continual learning for all staff members through up-to-date evidence based and patient centered practices. I look forward to practicing in an environment full of clinicians with different backgrounds, supporting me on my journey of learning and finding myself as a future clinician.
What are your plans on trying to engage and connect with the community?
Community outreach is important to build relationships and make connections for those seeking services and provide education on our profession and what we can do to help with a broad spectrum of injuries or impairments. I hope to participate in opportunities to work with the community and be a model representative for R2P and all they have to offer.