The Level Up Initiative, Episode 23
Check out our own Dr. Josh Funk on the latest episode of The Level Up Initiative Podcast!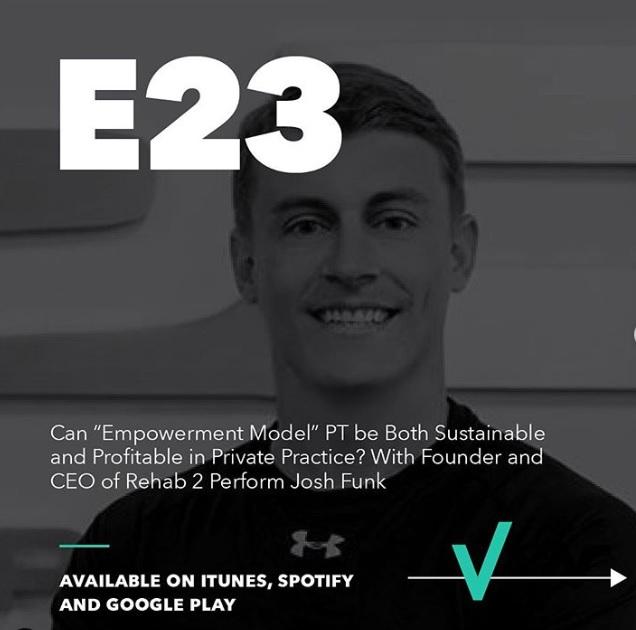 Through education on mindset, thinking, and communication, The Level Up Initiative fills a void of what is missing in healthcare education, while creating a network that is equipped and driven to navigate this seemingly insurmountable healthcare epidemic that we are faced with today.
Epispode. 23 Can "Empowerment Model" PT be Both Sustainable and Profitable in Private Practice? With Founder and CEO of Rehab 2 Perform Josh Funk
⠀
In this episode, we are joined by Josh Funk (@drjoshfunk), good friend and owner of Rehab 2 Perform, a company with now 4 locations in the greater DC area. Josh is someone I have come to respect massively over the years, for one main reason: he was able to build an incredible company that is able to balance a true "empowerment model" with profitability and sustainability.
⠀
R2P is able to balance clinical reasoning with a STRONG background in strength training, pain science, biomechanics, and communication skills with an emphasis on building physical and mental resilience in their patients. R2P embodies what it means to be "a Level Up certified" practice.
⠀
We are living during a very exciting time in the healthcare industry (IMO) and Josh is at the forefront leading by example. Lots to be learned from what he has created, what he is creating, and what his plans are to continue to make an impact in healthcare. Hope you all enjoy!
https://thelevelupinitiative.mykajabi.com/podcast
Direct link - http://hwcdn.libsyn.com/p/9/e/5/9e5c72db2a3dcc2b/Level_Up_Theme_21.mp3?c_id=54748697&cs_id=54748697&destination_id=753059&expiration=1571056150&hwt=83d4dbbf3d5577ee6780835dabcc0fe4