Meet Kelly, DPT Student – Emory & Henry
Why did you decide to enter the field of Physical Therapy?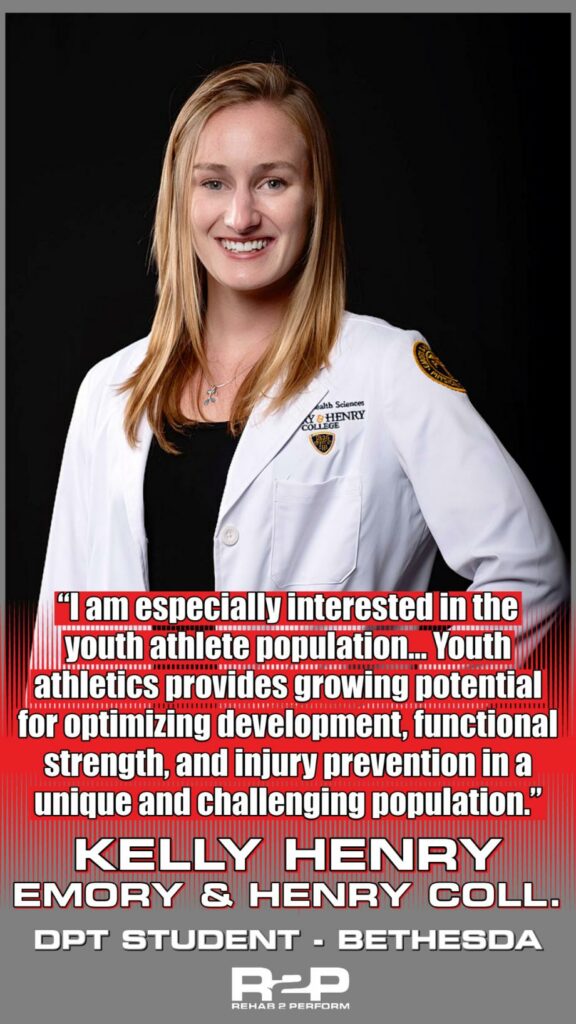 When I first started my undergrad at Virginia Tech, I had no idea what I wanted to do. I knew I liked health, I knew I was good at science, and I knew I liked interacting with people. I explored a few majors, and decided to try Human Nutrition, Foods, and Exercise. During my junior year, I was required to take a field study course for my degree. I became a sports medicine intern in the University's athletic training room, working under my athletic trainer who became a mentor to me. While working in athletics with trainers and physical therapists, I got to experience the journeys of my teammates and multiple other athletes as they rehabilitated injuries on their way back to competing. I learned the value of personalized patient care and the importance of specialized treatment for an athlete's individual goals. I found the fulfillment of seeing an athlete meet their goals and return to the sport they love to be too rewarding NOT to make a career out of it.
What is your background?
I'm a 3rd year DPT student at Emory & Henry College. Before Rehab2Perform, I completed 2 other full time internships at Children's Hospital of Richmond and Sentara Northern Virginia Medical Center. I was born and raised in Woodbridge, Virginia and have always felt at home in the Washington, DC area. I grew up swimming and playing soccer for the local club teams. I continued to compete for 4 years on Virginia Tech's varsity swimming & diving team, and I loved every moment of being a student athlete (Go Hokies)! I found a lot of purpose being part of team and striving for goals bigger than my own, while achieving personal milestones in and out of the pool. I still swim occasionally, but have enjoyed incorporating other forms of exercise including trail running, HIIT workouts, weight lifting, and hiking into my daily routine.
What is your specialty/niche when it comes to being a future physical therapist?
I am especially interested in the youth athlete population. The variability and creativity of pediatric therapy combined with the fast-paced and goal-oriented nature of sports medicine makes me excited and invigorated. I feel that there is so much to learn and be achieved in both pediatrics and sports physical therapy. Youth athletics provides growing potential for optimizing development, functional strength, and injury prevention in a unique and challenging population.
What are you most looking forward to joining the Rehab 2 Perform team?
I am most excited to improve and implement my critical thinking skills in a clinic that fosters growth and education. From R2P's online presence, stellar reputation, and resource availability (like R2P Academy), it is clear that the team is full of intellectual and evidence-based clinicians that I cannot wait to learn from. Active and continuous learning is crucial for professional development in any field, and I am confident that Rehab2Perform will provide the resources and atmosphere to grow and challenge my skills as a future clinician.
What are your plans on trying to engage and connect with the community?
Volunteering and community outreach has always been important to me. During my last clinical, I volunteered to coach a powerchair soccer team with an adaptive sports organization. I plan to take advantage of any potential volunteer opportunities, as well as continuing R2P's positive presence on social media!