Sports Rehab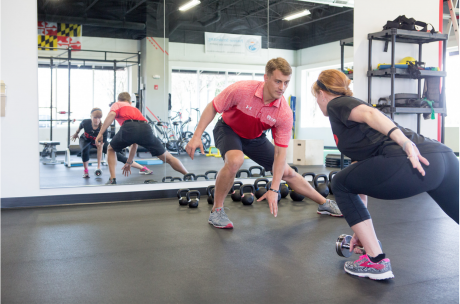 PHYSICAL THERAPY AND PERFORMANCE ALL-IN-ONE
Our Sports Rehab services are exactly what you're thinking … we work to get an athlete back to the playing field quickly and safely. Pain management is only a small part of the process. From the ACL Injury and Ankle Sprain to Shoulder Dislocations and Hamstring Pulls, The overarching goal is returning to optimal function through a wide variety of athletic movement progressions, while educating the athlete to prevent future injuries.
The Sports Rehab Facility For You
Featuring over 1,000 square foot of turf at each of our locations, we are able to work with our sports rehabilitation clients through a full spectrum of agility, balance, coordination and other dynamic movements necessary for return to sport. Each of our Doctor of Physical Therapy level staff has advanced credentials and experience in sports performance training that enable them to take you to the highest levels of performance, all while ensuring you meet certain Return-To-Sport criteria necessary to decrease your risk of re-injury. 
Now offering Concussion Care and Rehab! 
Our Physical Therapists are trained to address concussion symptoms, and help progress a student-athlete back to school and sport using a graded exposure rehab model. Learn more HERE
VIDEO: First Session Expectations and the R2P Difference HERE
Your Initial Evaluation with a Doctor of Physical Therapy will be approximately one hour and could potentially last up to 75 minutes with subjective questions, objective movement assessments, and developing your home exercise program.
Follow-Up sessions will last approximately 30 minutes, 1 on 1 with your therapist, with the potential to have your exercise therapy routine extend the session approximately 10-30 minutes. 
In-Network Insurances Accepted:
Aetna (including Meritan and Coventry)
Align Networks
Auto Insurance 
Blue Cross Blue Shield (including Carefirst, Anthem and Highmark)
Cigna / ASH (American Specialty Health) 
Corvel
​Medicare
Tricare
United Healthcare (including MDIPA, GEHA and Humana)
Veterans Affairs Community Care (Learn More Here)
Workers Compensation (OWCP and others)
Self- Pay Options:
Initial Evaluation (1 hour) - $145
Follow-Up (minimum 30 Minutes) - $95
Follow-Up (Post-Surgical)- $70 
Have further questions regarding billing and insurance? Learn more about the Billing Process HERE.