Physical Therapy Internship at Rehab 2 Perform
Why Intern at Rehab 2 Perform?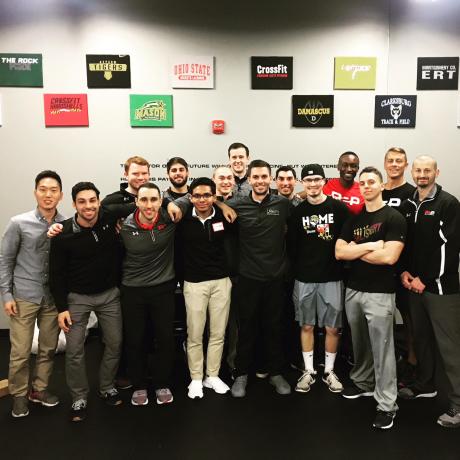 Embrace the opportunity to learn from performance physical therapists in a modern facility utilizing progressive and cutting edge rehabilitation  and fitness methods. Rehab 2 Perform features Doctorate of Physical Therapy trained clinicians who are also Certified Strength and Conditioning Specialists. This unique environment allows interns exposure to evidenced treatment methods of various injuries and conditions. Interns will get to observe and participate in the management of clients ranging from youth through adult helping them achieve their goals of maintain and active lifestyle and returning to competition.
Thank you for your interest in our Physical Therapy Internship at Rehab 2 Perform!
Rehab 2 Perform is an innovative sports medicine facility that provides world-class rehabilitation services to athletes of all ages. Our regular clientele include:
Youth, High school and College (D1, D2 and D3) athletes

Professional athletes in the NFL, MLB, Olympics and MLL

Competitive runners and triathletes

CrossFitters, regular gym goers and recreational athletes
Our facility first opened in 2014 and now serves the greater DMV area with Four Locations!  Our client model features 1 hour evaluations and at least 30 minutes of 1:1 time with the PT for all follow-ups. We also offer additional services to our clients from companies such as Compex, Recovery Pump and more.
While Rehab 2 Perform is a private practice centered around orthopedics, this is far from your typical out-patient clinic. Emphasizing all of the fundamental skills of Physical Therapy, we utilize an integrated methodology of rehabilitation and training techniques designed to help our athletes return to optimal performance in a safe and efficient manner.
In addition, Rehab 2 Perform is a practice built on ethical success, in accordance with guidelines set forth by the APTA, including the practice of evidence-based medicine. We ensure that we provide our clients with cutting edge services, systems and resources that will enhance their quality of life and daily performance. At Rehab 2 Perform, we deliver innovative performance based Physical Therapy and Performance Training designed to ensure our patients move better, feel better, and perform better than ever before.  
Apply HERE For Our Intership Programs (DPT, Undergrad, High School) or learn more with the specific links below. 
Application Deadlines:
Spring Internship: December 1st
Summer Internship: March 1st
Fall Internship: June 1st
Winter Intership: October 1st
For More Information on our Internship Opportunities: