Events
From lecture series and career days at schools to hosting courses and producing our own educations seminars, Rehab 2 Perform has a strong passion for continuing our education and spreading our knowledge to those in the local community and partners in the medical world.
This year we will be hosting a number of Continuing Educational courses at our facilities and R2P Seminars presented by our staff. Check out the details below and click on the links to register!
Are you looking for us to host an event? Or want one of our therapists to come speak at your school or event? Please contact or business operations manager Matt Cornell, Matt@Rehab2Perform.com 
R2P Seminars
Thank you to everyone who joined us Saturday, May 18th 2019 for the 2nd annual Spring Seminar! Our expert staff dove deeper into the blueprints that set the standard as we guide patients from Rehab 2 Perfomance!  Look out for more information on our 2019 Fall Seminar! 
Presentations Included:
INTRO OF FOUNDATIONS: The Blueprints - Dr. Jarred Boyd & Dr. Anthony Iannarino
CASE STUDY #1: Acute Labrum Tear After Fall On Outstretched Hand - Dr. Zach Baker & Dr. Jamie Wood                                      
CASE STUDY #2: Rehabilitation Framework for the Tactical Athlete Returning to Duty - Dr. Josh Funk & Dr. Caleb Fatzinger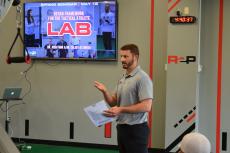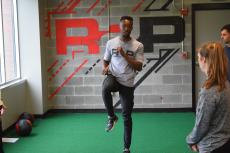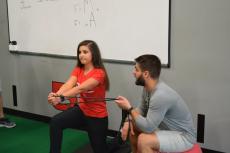 R2P 2018 Fall Seminar On Saturday November 10th, 36 Physical Therapists, Personal Trainers, Strength & Conditioning Coaches, and DPT Students from seven states joined the R2P staff at our Germantown location for a full day seminar as we revealed our HOW and WHY in guiding patients from Rehab 2 Performance! Check out the highlights and recap here 
R2P 2018 Spring Seminar recap and highlights HERE! The seminar featured dynamic, educational sessions featuring current concepts in the world of rehabilitation and performance.
---
UPCOMING HOSTED EVENTS
September 7 & 8, 2019 at R2P GERMANTOWN: Rocktape - FMT RockPods & Rockfloss 
REGISTER HERE - https://shop.rocktape.com/fmt-september-7-8-2019-germantown-md-fmt-rockpods-fmt-rockfloss/
FMT RockPods explores the science of tissue gliding, traction and decompression with easy to use myofascial cups. RockPods are one of the latest additions to the RockTape tool arsenal to better equip each clinician and therapist to deliver superior patient and client outcomes. FMT RockFloss explores the science of compression band flossing and fascial shearing to help improve joint mobility, reduce pain*, and enhance movement. RockFloss is the one of the latest additions to the RockTape tool arsenal to better equip each clinician, therapist or trainer to deliver superior patient and client outcomes.
October 12 & 13, 2019 at R2P GERMANTOWN: BFR Specialist Workshop - Accelerate Performance & Recovery
REGISTER HERE - https://thebfrpros.com/workshop-information/?id=15   
This BFR Specialist Workshop is designed to help clinicians, fitness & performance coaches grow your practice by giving the most enjoyable, unbiased evidence based Blood Flow Restriction (BFR) workshops possible. During the workshop attendees will discuss evidence-based exercise science concepts for building muscle mass and muscle strength, critically analyze the role of fatigue and its influence in muscle force production and hypertrophy, evaluate the benefits of BFR training and its primary mechanisms, and more!
March 21, 2020 at R2P BETHESDA: Owens Recovery Science - Personalized BFR Course
REGISTER HERE - https://www.owensrecoveryscience.com/certification/bethesdamd-march-21-2020/ 
Personalized Blood Flow Restriction Rehabilitation (PBFR) is a paradigm shifting intervention for the rehabilitation professional with over 160 peer-reviewed articles in the scientific literature. By applying a tourniquet briefly and intermittently to an exercising limb you can induce significant and substantial strength, hypertrophy and endurance changes while using a very light load. By attending the course clinicians will be able to communicate the physiology behind mechanical tension compared to metabolic accumulation training and the downstream effects, manipulate blood flow restriction protocols to create a local or systemic response within the soft tissues, differentiate limb occlusion pressures objectively for each individual athlete/patient, and more!
June 6 & 7, 2020 at R2P BETHESDA: Gabbet Performance Solutions - Load Management: Trainer Smarter and Harder 
REGISTER HERE - https://www.eventbrite.com/e/load-management-train-smarter-and-harder-washington-dc-tickets-65085423253   *Use the code Rehab2Perform and save $50
This two-day workshop bridges the gap between theory and practice. Participants will gain hands-on experience monitoring training loads, designing session and weekly training plans, and providing training programs to meet the individual needs of athletes and patients. The workshop is presented in a small group setting, promoting interaction and discussion amongst participants, and allowing ample time for Q&A. Whether you are an experienced practitioner or simply want to gain some practical ideas to implement in your clinic, this workshop will help you to "build a training program from the ground up"!