Performance Physical Therapist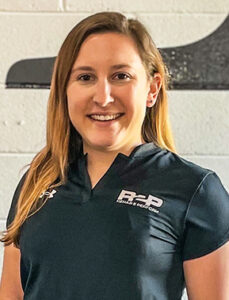 Sam was raised in Severna Park, MD as a multisport athlete throughout her youth and high school years, with her primary interest being in field hockey and lacrosse. She continued playing club field hockey at Towson University where she majored in Athletic training. Throughout her time at Towson, Sam worked with a variety of athletes including middle/high school, D3 collegiate and D1 collegiate levels. After earning her B.S in Athletic Training and becoming a certified athletic trainer, Sam continued her education at University of Maryland Baltimore, graduating with her Doctorate of Physical Therapy in 2019. During her time at UMB, Sam completed a variety of clinical rotations with her final rotation working with Dr. Jamie Wood at R2P's Frederick location.
Since graduation, Sam has been working in the outpatient orthopedic setting with a special interest working with post-surgical patients, concussions and high school/collegiate athletes. As an ATC, Sam has a special passion for working with athletes and getting them back onto the field with the skills to perform at their highest level and prevent future injuries. Sam believes in integrating all parts of a patient's life into their treatment to ensure they are able to return to activity safely, confidently and with all the tools to continue succeeding.
Outside of the clinic Sam enjoys traveling, reading, and staying active through running and weight lifting.