DR. MARCUS TAYLOR, DPT, MS
Performance Physical Therapist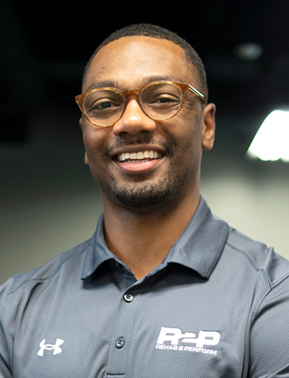 Marcus grew up in Newport News, Virginia where he played basketball and football. Around 7th grade, he decided to focus solely on basketball when he started playing more competitively in AAU and high school levels. He attended Norfolk State University, which is a Historically Black College and University (HBCU) in Norfolk, Virginia. While at Norfolk State, he became heavily involved in his community through advocacy and program implementation.
He earned his Masters in Biomedical Sciences and Doctorate of Physical Therapy degrees both from Duke University. During his time in Durham, he worked with the Duke Football Team as an assistant athletic trainer and became involved with community and university-based advocacy. His interests in mentorship, activism, and reducing health disparities are attributed to his time at Norfolk State.
Marcus utilizes his previous life experiences and interest in human connection to better provide individualized patient care. He strives to meet patients where they are in order to foster a relationship of trust throughout the rehabilitation process. Marcus is excited to join to the Rehab 2 Perform team and to make lasting impact within the Germantown community.