DR. DEREK GARZA, DPT, CSCS
Performance Physical Therapist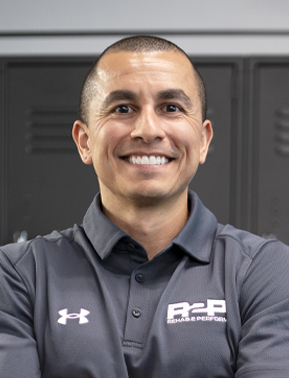 Derek was raised in Salinas, California, or more recognizably, in the Monterey Bay area. Athletics had always been a part of his upbringing, and as he began to focus on basketball and track & field in high school, he found physical therapy after experiencing sports related injuries. Following high school he went on to attend Fresno State University where he would compete as a jumper, hurdler, and a decathlete while pursuing a degree in kinesiology - exercise science.
After undergrad, Derek moved to Orange County in Southern California for a physical therapy internship. When the internship concluded, he took a detour with employment at Goldman Sachs where he would gain professional experience working in the finance sector. Ultimately, Derek used this opportunity as a path to support himself while preparing to apply to physical therapy programs. Maintaining focus and determination, he went on to pursue his doctorate in physical therapy from Massachusetts General Hospital Institute of Health Professions in Boston, MA.
Derek has experience working with individuals from a multitude backgrounds, regions, ages, and skill levels. He is passionate about utilizing his experiences to empower others to confidently excel in their own lives. Additionally, he is a Certified Strength and Conditioning Specialist, and is passionate about weightlifting, sprints, agility, and plyometrics. Outside of the clinic, Derek enjoys staying active by playing basketball, ultimate frisbee, hiking, and snowboarding.