Cross training days serve the dual-purpose of increasing muscle strength/endurance and enhancing fatigue resistance by using individual resistance exercises and circuit training.
These days payoff by reducing the cost of your running, help you to negotiate hills during your runs, and build injury resistance over time.
Use the videos below to guide your program. Make sure you have downloaded the tracking sheet and write down your reps and weight as needed.
Complete the workout to the best of your ability by working down the list completing each set of exercise before moving to the next exercise. With the Circuit, complete one set of each exercise and move onto the next exercise. Rest, and then complete the full circuit again.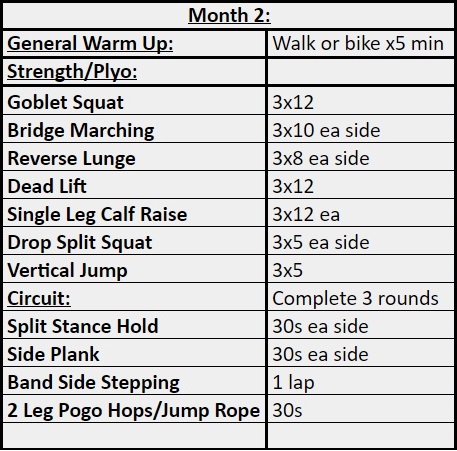 SPLIT STANCE HOLD (CIRCUIT)
BAND SIDE STEPPING (CIRCUIT)
2 LEG POGO HOPS / JUMP ROPE (CIRCUIT)
Through an Evidence Based and Modern Approach to Physical Therapy, R2P serves the Active Adult, Competitive Athlete, and those looking to be more Active by focusing on movement, functionality, and not necessarily on pain. We will have you Ready 2 Perform!