Head Physical Therapist, Mt. St. Mary's University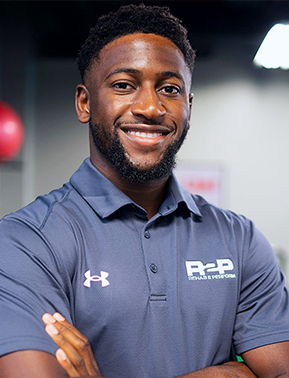 Bami grew up in Howell, New Jersey where he was the youngest of 4 kids. He played competitive soccer at the highest level throughout his youth and continued on to play Division I soccer at the University of Hartford where he received both his B.S. in health science and a doctorate in physical therapy.
Always passionate about sports performance and rehabilitation, Bami became a certified strength and conditioning specialist and earned his FIFA medical diploma while attending graduate school. Utilizing this knowledge and his physical therapy education, he worked as personal strength and conditioning coach and trained soccer players at all levels from youth to pro players while completing graduate school. He gained further experience through his multiple clinical rotations, most recently at R2P where he learned under the tutelage of Dr. Tim Bifulco.   
Bami strives to bridge the gap between rehabilitation and sports performance, and help individuals understand how resilient and capable the human body can be. He provides individualized assessment and care that is specifically aimed at helping each client reach their personal goals.  In his spare time, Bami continues to stay involved with soccer by playing in men's leagues and coaching youth soccer teams.