Athlete Development Model
The ultimate goal is to create positive experiences for American athletes at every level . By using the American Development Model, clubs, coaches and parents can help maximize potential for future elite athletes, and improve the health and well-being for future generations in the United States.
KEY PRINCIPLES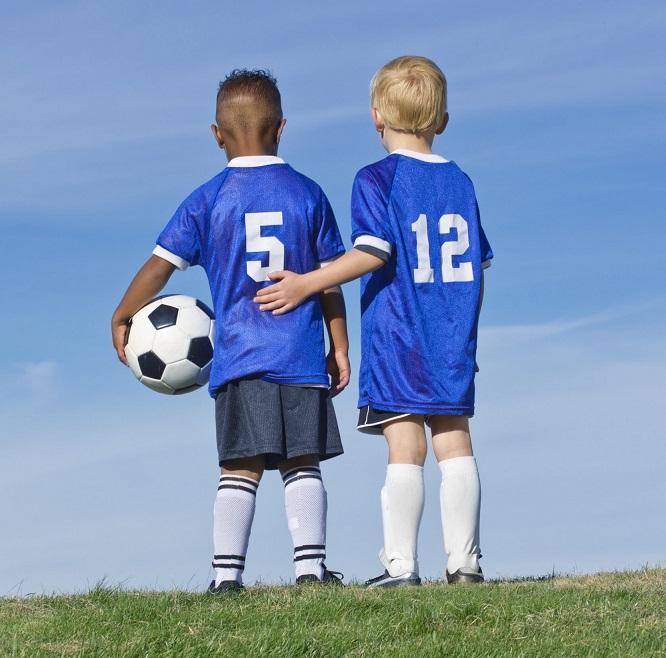 UNIVERSAL ACCESS TO CREATE OPPORTUNITY FOR ALL ATHLETES
Universal access is defined as creating opportunities for everyone to participate in sport . By providing universal access to all youth regardless of gender, race, physical disability, and economic status, more children could become involved in sport and be more physically active . Sport must be inclusive so that all children have the opportunity to discover the benefit of physical activity and realize their full athletic potential . Sport and physical activity are tools for children to express themselves, develop social relationships and learn valuable life lessons.
DEVELOPMENTALLY APPROPRIATE ACTIVITIES THAT EMPHASIZE MOTOR AND FOUNDATIONAL SKILL DEVELOPMENT
A clear understanding of an individual's developmental level (as opposed to his or her age) will help coaches, parents and administrators appropriately tailor the training, skills and tactics taught to maximize an individual's full potential, while helping avoid burnout . In order to succeed, athletes must first learn foundational motor skills and technique . Coaches, parents and administrators who jump directly into competition tactics and strategy without emphasizing basic fundamentals may put their child or athlete at a disadvantage . To ensure long-term success, athletes must be given adequate time and knowledge to develop these essential building blocks for success.
ENCOURAGE MULTI-SPORT PARTICIPATION
Multi-sport participation is critical to developing a well-rounded foundation for physical activity that can transfer between sports . Encouraging children to participate in multiple sport activities at a young age offers them the opportunity to explore, play and discover sport according to their personal interests and skill level . Multi-sport play also provides several cross-training benefits for athletes – such as strength, endurance, agility, coordination and speed training — that enhances athleticism and promotes a healthy lifestyle . Athletes also benefit from the social and psychological impact of multi-sport participation.
FUN, ENGAGING AND CHALLENGING ATMOSPHERE
A fun, engaging and challenging environment is essential for any youth sport activity . The definition of "fun" may change as children advance to more elite levels of competition, but a standard emphasis on making the process positive and enjoyable is key . Free and spontaneous play is encouraged to help foster growth and development . By offering the opportunity for unstructured play, athletes are more likely to customize physical activity to meet their needs and keep the "fun" in sport intact . Creating a team mentality through positive reinforcement is also critical . Consult your sport's National Governing Body for suggestions on age-appropriate dose and duration of practice and competition to help avoid burnout.
QUALITY COACHING AT ALL AGE LEVELS
Quality coaches are critical to athlete development; therefore quality coaching education is critical for athlete success at all competitive levels . Quality coaching not only requires a youth coach to be qualified and highly knowledgeable of their sport, but also basic training on effective communication, practice planning and athlete development . The very best coaches view themselves as continual learners and are always working toward improving themselves . Consult your sport's National Governing Body for information on the different types of coaching education that are offered and/or required for your sport.
Stages
STAGE 1: DISCOVER, LEARN AND PLAY (AGES 0-12)
This is the first step to being involved with sports at a young age (0-12) or when first introduced to a new sport . Discovery of key concepts and motor skills of the sport/activity is critical in order to learn how the sport is played . Many skills are transferrable between sports . Programs should accommodate athletes that participate in multiple sports . This early stage requires coaching that will allow fun and enjoyment through discovery and exploration.
STAGE 2: DEVELOP AND CHALLENGE (AGES 10-16)
The second stage of the development process occurs after an athlete has been engaged in a sport and wants to explore more organized training options . This stage focuses on refining the skills needed to be successful in the activity or sport, and then furthering skill development through challenges, such as recreational competition, organized sport programs or club participation . Athlete readiness and motivation determine the choice to pursue the next level in sport . The second stage may begin earlier for some athletes who are quick to develop physically and mentally. Fun and socialization are still key areas of emphasis in order to encourage future participation and avoid burnout.
STAGE 3: TRAIN AND COMPETE (AGES 13-19)
At stage three, athletes begin to train and compete in a program that matches their personal interests, goals and developmental needs . Competitions become more clearly defined in this process with potential for new experiences in team selection . Maximizing potential becomes an option for athletes as they start to grasp the commitment necessary for certain sports, and the skill sets needed to excel at the next competitive level . Technical, tactical, physical and psycho-social development becomes increasingly more important for the athlete at this time . This is also the stage to increase sport-specific training . Recreation and multi-sport play can continue to be used in a cross-training capacity to allow athletes the opportunity to more fully develop.
STAGE 4: EXCEL FOR HIGH PERFORMANCE OR PARTICIPATE AND SUCCEED (AGES 15+)
When an athlete reaches high school they will likely face the option to either focus on sport for high performance and increased competition, or continue to compete for the fun, healthy and social aspects of sport . Athletes will be able to choose the pathway that best represents their interests and abilities . Growth spurts, experience or dedication to training may all affect which path an athlete follows during their sport career . This stage allows for both full development and commitment to their sport(s), and enjoyment of the benefits that sport offers . Fun and socialization remain key elements of this stage, although the definition of fun changes from athlete to athlete and also will adjust based on the commitment level to high performance or participation.
STAGE 5: THRIVE AND MENTOR (ACTIVE FOR LIFE)
Everyone can use sport and physical activity to establish and maintain a healthy lifestyle.
Many athletes want to give back to their sport after they finish competing . Coaching, officiating and mentoring other athletes are natural next steps . With previous experience as an athlete, the coach, official and/or administrator can help prepare other athletes to be the best they can be in sport and enjoy the development process.
For further reading and information Visit HERE