Performance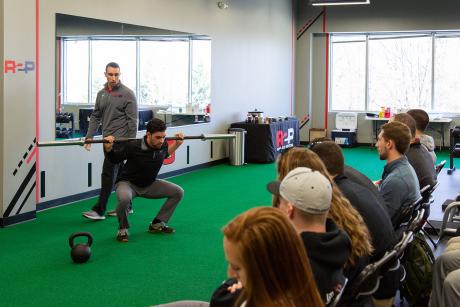 PERFORM NOW, PERFORM FOR LIFE
Performance-focused personal training is designed to help keep youth athletes and active adults healthy, in addition to decreasing the risk of injury. It is our intention to make sure that our clients maximize their physicality, in an effort to ensure that they reach their personal goals. 
YOUTH PERSONAL TRAINING
The demands on youth athletes continue to increase with sport specialization happening more and more often, and training options for youth athletes being few and far between. Youth athletes are unfortunately being put in a position to compete more often than they are having opportunities to be better prepared for their physical activity of choice. 
Individuals who would be most appropriate for Personal Training with Rehab 2 Perform include: 
Youth Athletes who are looking to learn how to work-out properly to support their sport goals
Youth Athletes who have recurring injuries
Youth who have unique medical conditions that may require a more specialized routine
All sessions are scheduled with a Doctor of Physical Therapy who has extensive experience in the field of human performance. 
Pricing: 
Call for Pricing Packages
ADULT PERSONAL TRAINING
When it comes to improving your health and performance, a one size fits all approach rarely gets the job done. There are certain instances where individualized attention is a necessity when it comes to optimizing your long term health and wellness. Whether you are an individual with recurring injuries, coming to us after being inactive for an extended period or recently coming off of surgery, our staff will help create an individualized program tailor made for your needs, wants and goals. It is our mission to serve as a catalyst for your journey to achieve life long health and well-being.  
Adults who recently have been discharged from physical therapy after surgery
Adults who have been inactive after an extended period of time and are looking to safely return to an increase in physical activity
Adults who are frequently injured when engaging in recreational activity or fitness routine
Pricing: 
Call for Pricing Packages