Stephanie, DPT Student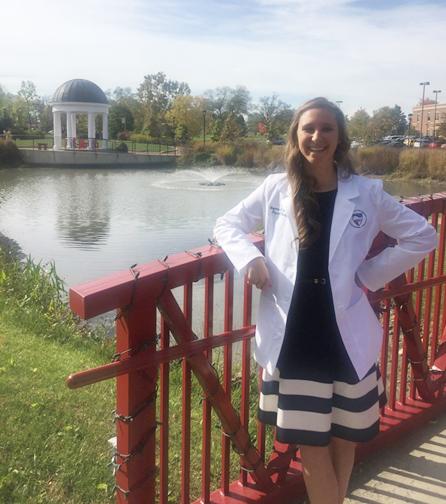 Why did you decide to enter the field of Physical Therapy?
I have always been very passionate about health and fitness and knew that I wanted to pursue a career in the health field.  I attended James Madison University and decided to pursue Kinesiology, but had not really considered physical therapy as a future career path because up until this point I did not have any personal experience with physical therapy. This changed once I got to college and began playing soccer for JMU. My freshman and sophomore year I got a little glimpse of physical therapy after a knee and ankle injury. However, it wasn't until my junior year, when I had a multi-ligament knee injury and had to medically redshirt from the sport I loved, that I realized the true importance and life changing impact that physical therapy can have on individual lives. It was through this personal experience that I realized I wanted to pursue physical therapy and help others regain their strength, mobility, and function so that they can return to the activities they love.
What is your background?
I am a third year doctorate of physical therapy student at Shenandoah University. I grew up in a military family and had the opportunity to live in and experience many different places. As a kid I was very active and quickly got involved in sports, with my favorite being soccer. Soccer became my passion and I was able to continue playing it through college for James Madison University women's soccer team. While at JMU I also majored in kinesiology with a minor in coaching. I still enjoy playing soccer now and also like to hike, bike, play ping pong, and enjoy any activity outdoors.
What is your specialty/niche when it comes to being a future physical therapist?
My niche as a future physical therapist is in sports rehabilitation, injury prevention, and sports performance. I am very passionate about educating and helping others live a healthier and more active lifestyle. I am particularly interested in ACL injury prevention programs as well as running mechanics and gait analysis.
What are you most looking forward to joining the Rehab 2 Perform team?
I am most looking forward to joining the R2P team because I am excited to work with other physical therapists who are equally as passionate and excited about health and fitness. I have always been very interested in combining rehabilitation with sports performance and personal training but did not know that there were clinics out there with this same mindset. Therefore, when I found R2P, I was extremely excited as their mission and beliefs align very closely to my own as a future physical therapist. I am just excited for this opportunity to learn and grow in a setting that I am very passionate about.
What are your plans on trying to engage and connect with the community?
I will try to engage and connect with the community by forming connections and relationships with my patients, reaching out on social media, and hopefully performing educational learning experiences to local sports teams and schools about injury prevention and overall health and wellness. I am currently not very active on social media, but I recognize that this is an important and beneficial way to reach out to the community; therefore, I will definitely try to work on this to better connect with the community.