Road 2 Recovery: Sophia Mense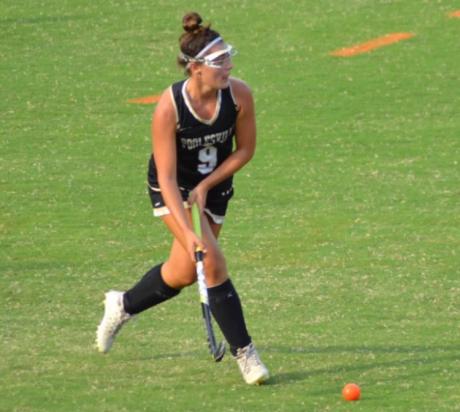 The agonizing series of events still lurk in the back of Sophia Mense's mind four years later. During a junior varsity field hockey game in her freshman year at Poolesville High School, Mense scurried to a ground ball out of the face-off circle, planted her right leg to get around a defender, and then an athlete's worst nightmare had dipped into the captain's reality.
Her knee popped, and then buckled, as Mense tumbled to the turf.
"It was a typical ACL-tear story," she said. "I knew right then and there. Any athlete knows it's a nightmare. I knew exactly what it is when I was laying there."
It was, in fact, a torn ACL. Mense is a lacrosse player at heart and only played field hockey to stay in shape for her main sport. The injury, which required surgery, sidelined Mense for her first season of high school lacrosse, as she had to go through eight months of doctor-recommended physical therapy.
When she got cleared to play club lacrosse that summer, now 2014, something still wasn't right with her recovering knee. Mense thought she was tearing scar tissue as the months went on, and hoped that maybe the pain would ease away. That wasn't the case. Instead, she had to have another surgery for a torn meniscus.
Dismayed at where her high school sports career was venturing, Mense sought something different this time around. That's when Mense's field hockey coach recommended her to rehabilitate with Dr. Josh Funk at Rehab 2 Perform. Ever since that moment, Mense's athletic career and personal well-being has reached new heights.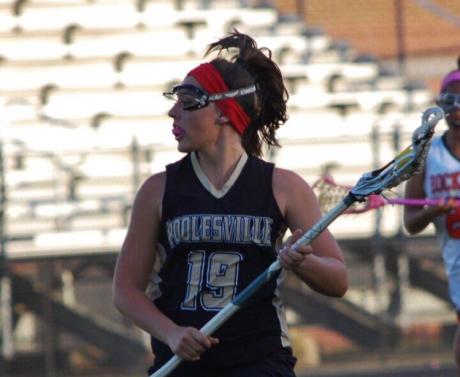 "I made the switch because, clearly, something didn't work before," Mense said. "Before, I just went through your typical physical therapy. When I went to Josh, it was much more, 'You're not going back on the field until we we know that you're OK and until we know you're not going to get hurt or anything.'"
Mense, who recently graduated high school this past year, scored 39 goals in 12 games for the Falcons during her senior season and is set to play college lacrosse at St. Mary's College. She finished her high school career with 105 goals in 39 games, according to The Washington Post.
Gaudy stats like those don't define Mense, however. It's the fact she now has a stable knee and support system.
"For me, the highlight of my career, my games, it's the progress," Mense said. "Like, maybe there's a girl in the game I think I couldn't have gotten around or maybe I wouldn't be able to get a ground ball, But for me, it's not the big moments. It's the little things.
"Like, 'Wow, my knee is stable.' I'll go get water or something after the game and my knee is OK for me to do that. I'll go to my coach, and be like, 'I don't know if you saw that, but I got that ground ball because I was able to cut around the girl to get it.' It's the really small things that mean the most to me. The amount of goals I score or the amount of plays I make is not prominent to me, I guess I could say. Looking back at past games and past seasons, it's definitely the small things.
"I look back at some of the accomplishments, and I wouldn't be able to get those if I didn't have a strong knee," Mense added.
R2P started Mense on light mobility and balance exercises, and progressively increased the workload as her knee inched back to normalcy.
"[R2P] fully progressed me back into playing," Mense said. "Like running going 25 percent at practice, then 75 percent, and I came back and am doing very well now."
Mense didn't just grow found of the cutting-edge rehabiliting curriculum, but she also felt at home because of the attentiveness and care the R2P staff showed.
"Even from the first day I saw [R2P], I felt very welcomed," Mense said. "I felt like I was in a really good place to be, where they truly cared about you. I didn't feel like just another patient. … [Josh Funk] welcomed more than just me. He welcomed my whole family. … I don't think I could've gone through the recovery without that kind of support."
Throughout the process, Funk and the R2P staff monitored Mense closely with periodic, charted physical tests, Mense said. Funk, a former professional box lacrosse player, pushed Mense a step further because of their lacrosse connection.
"That's really what did it for me," Mense said. "Josh knows what I'm going through, just as a lacrosse player and playing in college. The same thing I was looking to do, I couldn't get at another company or place."
Mense will enroll at St. Mary's College this fall and is set to major in biology, with aspirations to pursue a field in orthopedics. That career path is fully inspired by the treatment and experience with Funk and R2P, Mense says.
"I will always go to him if I ever need anything," Mense said. "I've had experience with other places, and it's typically an overall basis: For this season, with this problem, this is what we're going to do. It's not specialized to what you're able to do.
"With Josh, it's based off how I'm doing and what I need to work on. As an athlete, it's incredible. He played Division I (sports). He knows what it takes to play at the highest level. He knows what area I was trying to get back into. And even someone who is not pursuing an athletic career, the kind of treatment you get one-on-one and suited to fit you and suited to fit your needs -- that kind of personal connection to fit your goals -- it's incredible. You won't get it anywhere else."