RECAP: A New Look at Concussions
July's installment of R2P's community lecture series opened up a discussion on concussion management and brain health. Dr. Anthony Iannarino DPT, CSCS led the conversation with his presentation "A New Look at Concussions". Dr. Iannarino used the latest in the scientific communities understanding of brain trauma, as well as personal experience as an athlete and soccer coach, as he discussed the defining characteristics of concussion, symptoms, the recovery process, return to play testing, prevention, and easy to implement tips for building a better brain.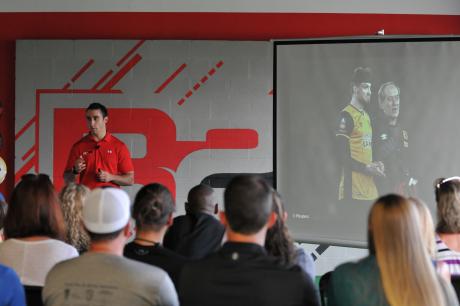 The key take-away points from this discussion included recognizing concussions as a complex and dynamic process that is individual to the person that sustaining the trauma. Unlike an ACL injury or a broken bone, there are no clear physical signs of pain or trauma. The signs of damage are all internal and the brain lacks pain receptors to warn us about potential damage that needs time to heal.  With this, Dr. Iannarino stressed the importance of a comprehensive examination on the field and before returning to play to determine potential impairments outside of those that are classically recognized. New developments in technology and understanding of brain trauma indicate that eye speed and balance testing are two of the best ways to gauge the presence of impairment or that more time for healing may be needed before returning to sport.
After the injury, Dr. Iannarino discussed the importance of ensuring complete rest and recovery through prioritizing sleep, hydration, and quality nutrition while avoiding factors that may "pick the scab" such as exposure to sensory input such as light, cell phones, and physical activity in the day following the injury.  Return to activity guidelines were discussed in which the athlete is progressively exposed to activity and monitored for tolerance and symptoms.
Concerning prevention, the risk of sustaining a concussion can never fully be eliminated so being pro-active and prioritizing brain health before and after the injury through creating lifestyle habits is vital.  Brain health and performance can be upgraded by ensuring quality sleep, optimal nutrition, and consistent physical activity. Although our activities may put us at risk, Dr. Iannarino emphasized that the actions taken over the days, weeks, and months leading up to and following a concussion can positively or negatively affect the body's ability to recover quickly from heal trauma.
Resources:
Concussion Lecture by Brandon Brock of the Carrick Institute
Consensus Statement on Concussion in Sport- The 5th International Conference on Concussion in Sport