Q&A with Hood lacrosse star Kara Phoubandith
By Kyle McFadden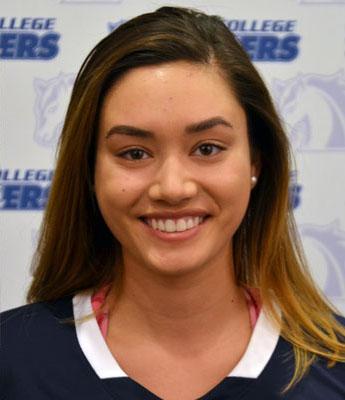 Kara Phoubandith traveled down an uncharted path. After suffering her first major injury in the spring of 2016, a torn ACL, the prospects of a promising lacrosse career appeared uncertain.
Her college lacrosse coach at Hood, Molly Frazier, suggested Phoubandith to attend Rehab 2 Perform for rehabilitation, and now she's returned stronger than ever.
During her freshman season, she ranked third on Hood in points (31) and goals (26) despite playing in eight of 17 games due to the ACL injury. The rising sophomore attack also led the Blazers in shooting percentage at 53.1 percent.
Phoubandith is a Class of 2015 graduate of Tuscarora High School and is currently studying marketing and communications at Hood College. She also coaches three local club lacrosse teams and is a pasta enthusiast.
Question: What's your lacrosse background like?
Answer: Originally, I was just a basketball player. I think it was in middle school, I had a couple friends who were really, really good at lacrosse and they needed some kids for their rec team. So I think it was about sixth or seventh grade when I started to play. From there, I loved it. It was really similar as far as footwork and everything to basketball, and I just really fell in love with it. Then I started playing club for Frederick Stars Lacrosse Club; played a couple years there. Then late into my junior year, I committed to Delaware State University. I went there and found out that I didn't click with the coach so much. It was a Division I school, a lot to take on. I wound up transferring to Hood College, and I'm playing there now. It's really great. We have new coaches. I was really interested in finding that Division I competitiveness and not necessarily the same time commitment, I guess. I really enjoyed being at home and actually working and being able to focus on my classes more.
Q: What's your connection with Rehab 2 Perform?
A: Last spring I tore my ACL playing lacrosse. And I've never been seriously injured before, so that was my first big hit. My coach actually went there before for some dry needling, and she told me about it and I thought it was a pretty good idea. So I went there and met with Josh [Funk], and it stuck. I wound up doing my rehab there.
Q: What was your experience like at R2P?
A: It was really good. Since I hadn't been injured before, I didn't really know how to go about it. It was probably the toughest thing mentally as well as physically that I've been through. So, just the support they gave me and they're so knowledgeable. They're so innovative, too. Josh really likes to stay ahead of what's going on as far as treating people. And he's always looking for, I think, new ways and innovative ways to treat people. So that really drew me as well. I was looking to heal up and get back to my old self as fast as I could.
Q: You talked about how that was your first injury and how mentally taxing it is on you. How did R2P help you, not just with your knee, but mentally?
A: When you're there, obviously they focus on rehabilitation, but they do actually care about you as a person. They always ask you what's going on in your life, or if you have any big plans. So it was really nice to be there and not just focus on getting better, but actually interacting with them as people rather than just your therapist. That was really great.
Q: What's your career ambition? What goals do you have?
A: Right now I'm studying marketing and communications. Originally, I was a sports marketing but they didn't have that at Hood. So I was hopefully looking into the business side of the sports world. I knew I didn't want to be like a trainer or anything like that. But besides marketing, i really would like to be coach at the collegiate level, regardless of division. That's my ultimate goal. But if that doesn't pan out, then somewhere in sports marketing field.