Meet Dr. Paula McCorkle!
Why did you want to become involved in physical therapy?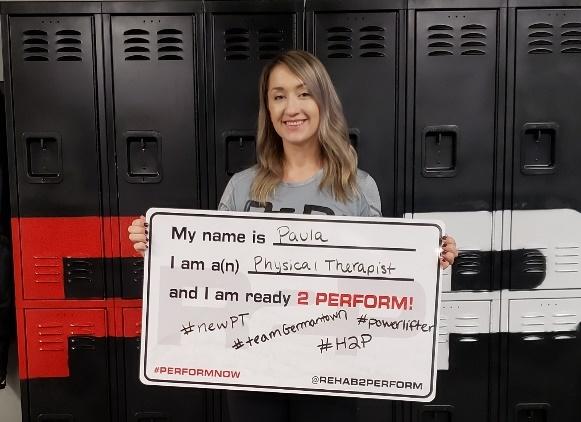 When I entered college, I knew that I wanted to be in the medical profession but was unsure about what direction in the medical field that I wanted to go. I shadowed various medical professionals; however, after shadowing a physical therapist in the sports rehabilitation setting, I knew instantly that I wanted to pursue a career in physical therapy. I love that therapists are able to know patients on a personal level and tailor treatment specifically to their patients' goals. I have been an athlete my entire life, and realized that I wanted to combine my passion for sports and training with my passion for rehabilitation to help patients return back to work or sport both safely and efficiently.
What is your background?
I am from a very rural town northeast of Pittsburgh. I played three sports in high school – volleyball, basketball and softball – and continued on to play volleyball at Allegheny College, where I received my B.S. in Biology. When I was no longer a collegiate athlete, I wanted to continue to stay active, so I decided to start weight training. I loved the benefits that I was achieving from weight training; however, I was still missing the competitive aspect of sports that I love, so I decided to begin competing in powerlifting while in physical therapy school at the University of Pittsburgh. While completing my doctor of physical therapy at Pitt, I completed clinical rotations in various settings, including outpatient, sports, neurological/vestibular and concussion rehabilitation.
What is your specialty or niche when it comes to physical therapy?
I really enjoy working with weekend warriors and strength training athletes; throughout my rotations, I found that a majority of these patients sustain injuries due to improper lifting mechanics and/or training frequencies so I enjoy being able to use my strength training and rehabilitation knowledge to get these patient populations back to their activities. However, I also enjoy helping athletes return back to field, court or work post-concussion. Concussion rehabilitation is still relatively new in regards to physical therapy, and the principles of concussion management are much different now than they were 10 years ago. I am passionate about continuing to advocate for proper concussion management in the physical therapy profession and ensuring that athletes of all ages and ability levels are safe to return back to sport post-concussion.
What are you most looking forward to in joining the Rehab 2 Perform team?
I am most looking forward to the team atmosphere that Rehab 2 Perform facilitates and being part of a company that continues to be a great resource for the community both in and out of the office. I have always wanted to work in a clinic where I am able to combine my passion for sports and training with rehabilitation, and I am very excited to be able to do that at Rehab 2 Perform!
What are your plans on trying to engage and connect with the Germantown community?
I would love to be able to engage and connect with athletes that have sustained concussions and increase overall awareness and education about proper concussion management in the community. Aside from concussion rehabilitation, I really enjoy staying active, so I would like to get involved with programs at some of the local gyms.