Nick Franssen, DPT Student Vermont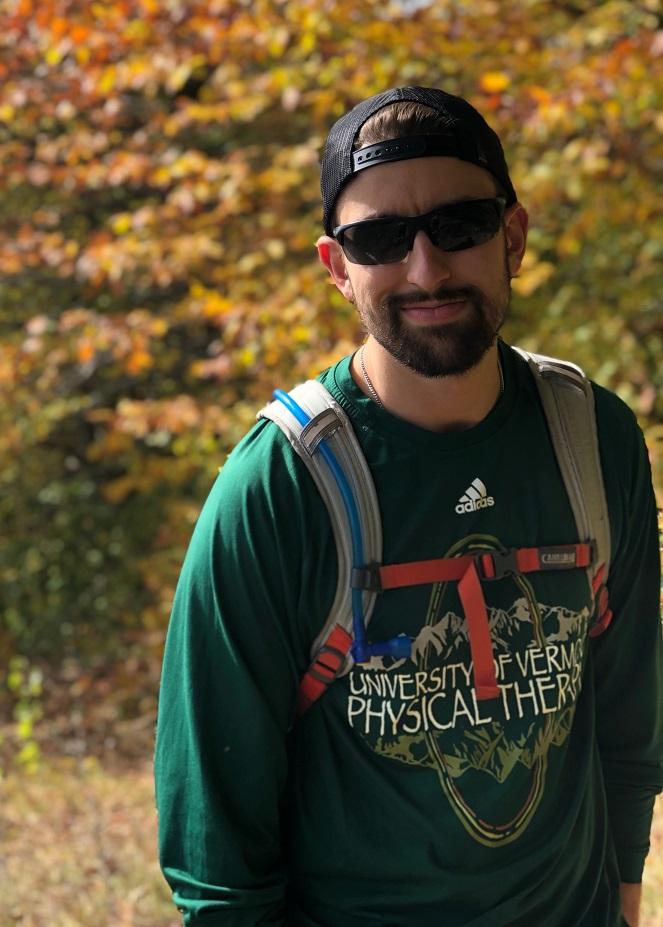 Why did you decide to enter the field of Physical Therapy? 
One of the many inspirations and motivations that I have for pursuing a place in the Physical Therapy profession comes from my love for serving the community. As a life-long student and learner, I have personal experience understanding the importance of movement and physical activity when it comes to the well being of our mind, body, and spirit. Having the ability to spread and share my knowledge for optimizing movement with the community is a major reason I chose the field of Physical Therapy.
I do believe that many students experience a moment in their academic career when they question the "why" for choosing a career in physical therapy. Having the ability to balance professional growth with personal growth can be difficult in the rat race of graduate school. For me, this moment of realization came during my second year of PT school when I broke my leg and required surgery to repair the fracture. I surely would not be with the R2P family today if it weren't for the loving support of my family, friends, professors, and healthcare staff throughout my recovery. Having first hand experience with the health care system and planning my own physical therapy treatments has solidified my "why" to become a Physical Therapist.
What is your background?
Currently, I am a third year physical therapy student completing my Doctorate degree at the University of Vermont. My life took me to the mountains of Vermont when I graduated with my B.S. in Health Science and competed four years as an alpine ski racer at Castleton University. My love for sports and pursuit for learning medicine initially lead me to the health care industry, and more specifically physical therapy. Along with my background in skiing, I also love golfing, hiking, traveling, and enjoying valuable time with friends and family!
What is your specialty/niche when it comes to being a future physical therapist? 
Having studied the musculoskeletal system in college and experiencing various injuries throughout my life has allowed me to gain a strong understanding of the rehabilitation process from the patient perspective. My ability to connect with the patient and establish a strong rapport as soon as they walk through the door separates me from many other students. I take great pride in my ability to communicate with the patient and assure they feel comfortable in the clinical environment. Applying what I've learned in my academic career with what I've learned throughout my clinical career allows me to be an effective therapist for my patients.
What have you enjoyed the most about joining the Rehab 2 Perform team?
Rehab2Perform provides progressive physical therapy services that exceed the current standards of our health care system, hands down. Practicing and learning with a company that values the patient, community engagement, and personal and professional development has been a gratifying experience and one that I will never forget. Josh and the whole team at R2P are constantly trying to raise the bar in healthcare, and this passion for growth is addicting. I want to thank Dr. Jamie Wood and the supportive clinical staff at R2P Frederick for taking me under their wing and allowing me to practice and learn in a facility that has the knowledge and equipment to provide high-end rehabilitation and performance training services!