meet Olivia, DPT Student from University of Miami
Why did you decide to enter the field of Physical Therapy?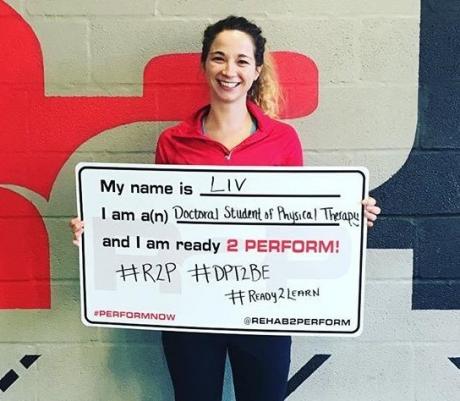 I grew up playing soccer up in a small town in Connecticut and had experienced multiple knee surgeries throughout my career.  Although it was heartbreaking not being on the field, those hardships led me to discover a new passion of physical therapy. Through countless months of physical therapy in my life, I have personally experienced just how positively impactful physical therapy can be for a person both physically and mentally.
I knew I wanted to make an empowering difference in someone's life the way my physical therapists had for me. I was not only able to see how physical therapy changed my life, but witnessed first hand the large role physical therapists played for my grandfather during hospice care; his physical therapists helped my grandfather achieve his goal of living at home and gaining greater independence during his difficult battle with cancer.  I learned from these experiences the endless possibilities physical therapists have in helping people achieve their goals. 
What is your background?
 I am currently attending the University of Miami's doctoral program. There, I have been exposed to a wide array of patient populations. One of my favorite experiences was attending the Amputee Coalition with Dr. Robert Gailey, where I helped people with lower limb amputations learn how to walk and run! That valuable experience sparked my passion for working with the amputee population during my career.
What are you most looking forward to joining the Rehab 2 Perform team?
Now that I am done with the didactic work of physical therapy, school, I am excited to be a part of the R2P's team. R2P creates a warm, welcoming, and truly unique environment where high quality, individualized and holistic care is guaranteed for every person who walks in the door. I have already learned more than I ever expected these past 4 weeks under expert clinician, Dr. Jamie Wood and am thankful I have 4 more weeks to soak in as much valuable knowledge and experience as I can!