meet Lei, DPT Student
Why did you decide to enter the field of Physical Therapy?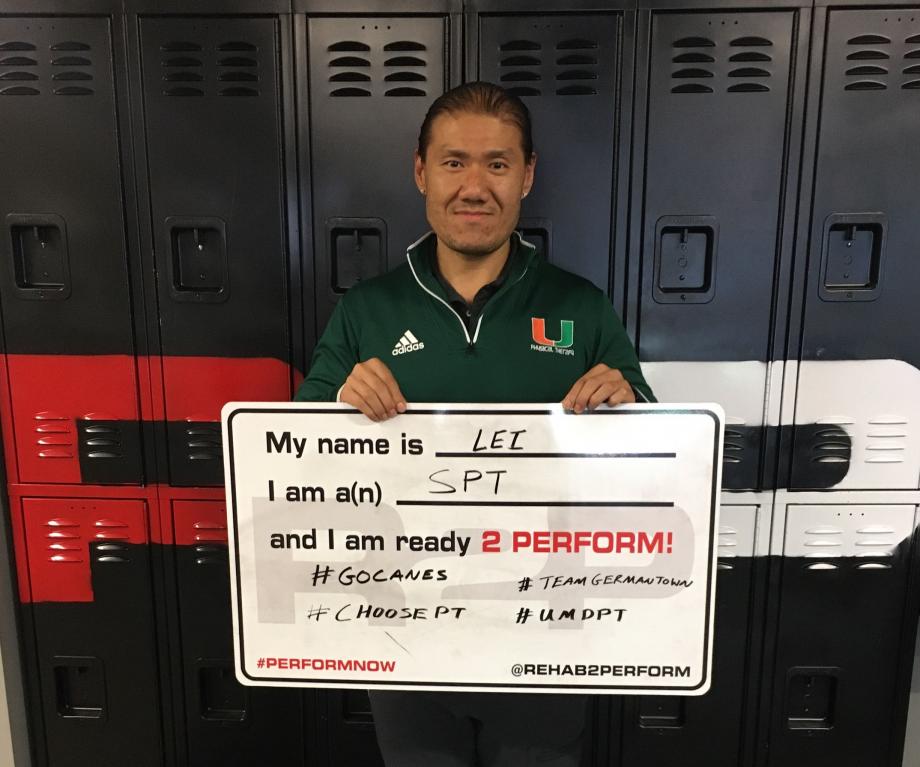 This is actually a change in career for me.  I received my bachelors degree with a double major in Chemistry and Forensic Science from Virginia Commonwealth University.  I then went on to pursue my Masters Degree in Toxicology from St. John's University in NYC.  After receiving my advanced degree I worked as a toxicologist for 5 years.  During this time I was morbidly obese, I weighed around 350lbs at my heaviest with a body fat near 50%.  I decided to take an indefinite leave of absence from work and focus on my health.  With hard work and dedication I dropped 150lbs over the course of 2 years.  After buying into the physical fitness culture and throughout my transformation journey, feeling aches and pains was a common occurrence.   I had no idea of what was going on with my body, so I wanted to seek out a profession that did.  I wanted to become an expert in movement, and being the consummate learner that I was, sought out to become a PT.
What is your background?
I am a 3rd year  Doctor of Physical Therapy student at the University of Miami, starting my full time clinical rotation work.  I grew up in Fairfax, VA and have hopes of coming back to the area after PT school.  Throughout my schooling to become a toxicologist, I wanted to work in the forensic pathologists office as a forensic toxicologist.  Being a PT never crossed my mind until I found the culture of physical fitness, which in essence saved my life.  I played a few sports growing up, like wresting and football, but was never an avid sportsmen.  After finding my new physical prowess, I started competing in kettlebell sport and to this day hold the U.S record for snatches with a 28kg kettlebell for 142 repetitions without putting it down for 10 minutes. Now I can't imagine not working out or doing something active outside. 
What is your specialty/niche when it comes to being a future physical therapist?
Throughout my transformation journey, I found bicycling to be my cardiovascular exercise of choice. I would love to in the future work with amateur to professional cyclists on their body ergonomics either through customized bike fittings or sport specific training/rehabilitation programs.  Basically anything sports related from the weekend warrior to the high level athlete I am invested in their optimal performance.
What are you most looking forward to joining the Rehab 2 Perform team?
All of the previous students from University of Miami that had the opportunity to complete a rotation at R2P praised the facility and CIs highly.  I am excited to learn from  not only my assigned CI, but from all the great clinicians at the facility.  I am excited to be  in a outpatient sports facility which incorporates return 2 play principles as I can see myself in a setting like this after graduation.  I am eager for personal and professional growth along the journey with Rehab 2 Perform and will try to absorb everything that I see and hear.
What are you plans on trying to engage and connect with the community?
I always liked the small booth/tent setups at local races or community events, this is a great avenue to communicate with people that may not know your services exists in their neighborhood.  In today's age social media is also a great tool to connect instantly with people in a specific area.  I will definitely try to utilize these options and be actively involved as much as I can along with the Rehab 2 Perform team.