Meet Alexis, DPT Student, Howard Univ.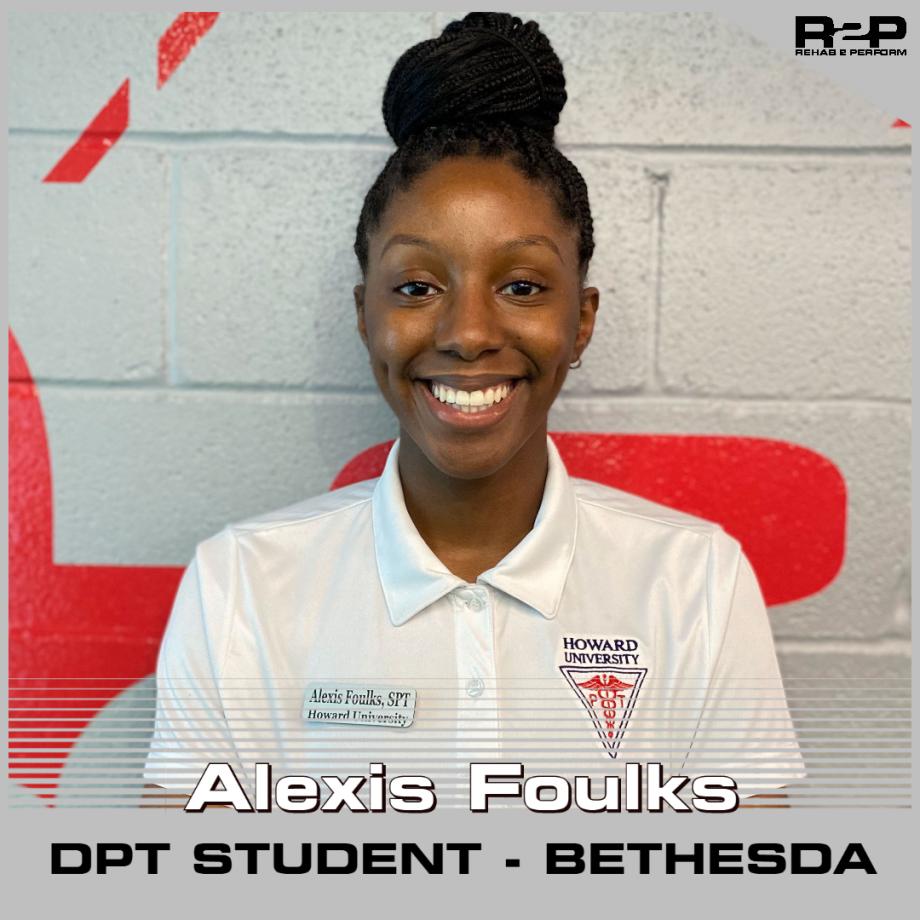 Why did you decide to enter the field of Physical Therapy?
Loving the field of physical therapy started during high school when I had the chance to see on a first hand basis, what physical therapists are capable of. From falling in love with an anatomy course my senior year, I was immediately interested with how the body works and what components are used to make your body move. I think of the body as a car. When broken, you take your car through a series of body shops and/or mechanics to fix what is broken. That is exactly what physical therapists are trained to do, but for the body. You are allowed to become creative, spontaneous, and flexible in your plan of care for each patient, while strategically placing them in the best position to attain their goals and/or prior level of function. This field allows you to not only be a PT, but also a mentor and coach to those who need you. It also has a plethora of clinical settings and areas that you can specialize in, to target a specific patient population. With a growing love for this field, I feel as though my role in life is to help others see their full potential and to help them strive to participate in their life endeavors.
What is your background?
I was born and raised in Columbia, South Carolina and graduated from Georgia Southern University with a Bachelors of Science in Kinesiology, with a major in Exercise Science in 2017. During my time there, I was blessed to receive a scholarship to play on a D1 level for the Women's Basketball team. Due to time and physical demands, I was not able to pursue a degree in athletic training which led me to where I am today. I am currently a 3rd year DPT student at Howard University in Washington, DC. Lately, I've been into consuming more information about nutrition and the importance of working out as a community exerciser, so that I can build a foundation of how I want to bring this important information back into my hometown community. I am planning to study for my strength and conditioning certification after the completion of this program. Outside of studying, I love to eat, create memories with family and friends, and consider music as my safe haven. I consider self love as the upcoming trend and admire those who dare to be different.
What is your specialty/niche when it comes to being a future physical therapist?
With an athletic background, I feel as though I will be able to better prepare the athlete to mentally and physically return to sport. Knowing body mechanics, quick reactions, and muscle memory from a given sport allows me to properly train the athlete during sports-related interventions.  With a future S&C certification and completed residency to become a sports certified specialist, I'll be able to bridge the gap between athletic performance, rehabilitation, and prevention of injury with an emphasis on good nutrition. As a future PT with this specialty, I'll be able to cater not only to them, but to ALL populations within my community as my main goal is to always pay it forward.
What are you most looking forward to joining the Rehab 2 Perform team?
By joining the Rehab2Perform team, I get the opportunity to showcase my skills from didactic work within the classroom and prior clinical experience. From there, I am looking forward to building my foundation. With this team, I will be able to solidify the difference between the roles of an ATC vs PT. I like how R2P has a planned schedule that requires you to cover certain criteria per week, that will consist of teaching and hands on learning. I'm excited to dive in and will be ready to consume as much information from all of the well-known PTs on staff during the coming weeks. I'm always open to making new friends and connecting to those that benefit from me as much as I can benefit from them.
What are your plans on trying to engage and connect with the community?
Rehab2Perform has provided multiple resources to connect to podcasts and mentorship programs. By incorporating these resources into my life, I will be able to add more value to my learning experience. The more value you have, the more that you are able to produce a positive experience to those that you encounter within the community. I plan to dedicate myself to becoming a better student and to network during my time at R2P.